New Fictional News Report Sets Up The World Of Captain America: Civil War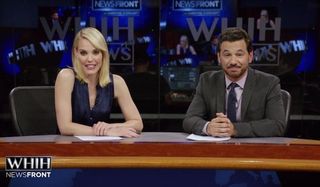 Next month, Captain America: Civil War will show the Marvel Cinematic Universe's heroes clashing over being officially regulated. We already have an idea of why the governments have passed this legislation, but how does the rest of the world view these characters. For that, we turn to WHIH World News. The fictional news program gave us some insight into Ant-Man's Scott Lang last year, and now they're back to explore the impact these superheroes have left on Earth
This WHIH Newsfront special report, subtitled the "The World the Hero Leaves Behind," features Leslie Bibb reprising Christine Everhart, the reporter previously seen Iron Man and Iron Man 2, and The Daily Show contributor Al Madrigal as political correspondent Will Adams. The two of them explore "the cost" of the Avengers actions and whether they should be answerable to officials. Throughout the Marvel video, we see photos and footage not just from movies like Captain America: The Winter Soldier and Avengers: Age of Ultron, but also footage showing what these fights and their aftermaths look from the civilian perspective.
Despite the Avengers intervening in international incidents to "great effect," Christine Everhart questions who accounts for the devastation they leave behind. Will Adams is of the opinion that they should be able to operate independently, citing the events of Captain America: The Winter Soldier. Fans will remember at the end of that movie that Natasha Romanoff, a.k.a. Black Widow, released a lot of classed S.H.I.E.L.D. information detailing how HYDRA infiltrated the organization and nearly succeeded with Project Insight. Because of her actions, HYDRA was outed and many lives were saved.
However, Everhart notes that the issue isn't whether the actions of these heroes have saved lives, but the collateral damage left behind. Should the Avengers submit to government oversight or remain free from regulation? The report ends before we can delve deeper into the issue, though it's clear from Adams' comments that Everhart is in favor of the government intervening in the Avengers' actions.
Superheroes haven't even been around a whole decade in the MCU, but it's clear that world has reached a point where people are conflicted about whether superheroes should continue to operate as usual or be held accountable by official rules. Of course, we the fans know that in Captain America: Civil War, another one of these international incidents that goes horribly wrong will lead to the world's governments passing the Sokovia Accords. While Tony Stark and the folks on Team Iron Man are in favor of regulation, Steve Rogers and the folks on Team Captain America believe the safest hands are still their own. This disagreement will eventually morph into a full-on battle between the two sides.
Captain America: Civil War charges into theaters on May 6.
Your Daily Blend of Entertainment News
Connoisseur of Marvel, DC, Star Wars, John Wick, MonsterVerse and Doctor Who lore. He's aware he looks like Harry Potter and Clark Kent.