Fifty Shades Of Grey Is Going To Be A Huge Hit, Here's Why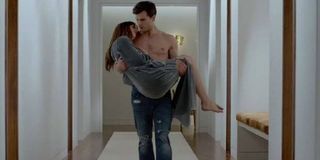 By now, everyone in the cinematic community is fully aware that Fifty Shades Of Grey is going to be a huge hit when it hits cinemas next month. But we now actually have the proof that it might be an even bigger success than anyone even realized. That's because it is now the fast-selling R-rated movie in Fandango's 15-year history.
The most impressive element of this statistic is that we are still just under a month away from Fifty Shades Of Grey being released into cinemas. That means that the erotic drama's popularity is only going to increase. Fandango confirmed on Friday that Fifty Shades Of Grey's tickets are selling like the proverbial hot cakes. In the process it has now sold more advance tickets than Sex and the City 2, The Hangover Part II, The Hangover Part III and Gone Girl, which are now the second, third, fourth and fifth fastest-selling R-rated films in Fandango's history. And Fifty Shades Of Grey's studio and producers will be licking their lips at the fact they are in such company. That's because Sex and the City 2 grossed $305.1 million, The Hangover Part II took in $586.8 million, The Hangover Part III $362 million, while Gone Girl amassed $365 million.
However they won't want to simply aim for these totals. In fact Fifty Shades Of Grey is likely to amass even more money than either of the aforementioned flicks. It is also having the biggest first week of ticket sales on Fandango for a non-sequel film since 2012's Hunger Games. The demand for Fifty Shades Of Grey is so fervent that Fandango has been adding more times across the United States to meet demand. Dave Karger, who works as Fandango's Chief Correspondent, has even declared that Fifty Shades Of Grey is threatening to be Fandango's fastest-selling R-rated movie of all time.
But what's made Fifty Shades Of Grey just so popular? It all really boils down to the huge successful of E.L. James' hugely successful novel, which blossomed into a zeitgeist behemoth that was the talk of the globe. Now people who have already read the novel want to see if the adaptation can match their own perceptions. Additionally, people who are too lazy to read want to be able to join in the conversations on the piece. Plus, the film's content is also hugely controversial, so much so that it has already generated protests that have only helped to increase interest. Want to know why? Check out the latest trailer trailer.
And don't forget, some people are just going to be interested in seeing two extremely good-looking actors getting it on in increasingly bizarre scenarios. We'll find out just how bizarre things get when Fifty Shades Of Grey is released on February 13. But if you expect to see it on the day it's released, you better hurry up and order your ticket now.
Your Daily Blend of Entertainment News
Thank you for signing up to CinemaBlend. You will receive a verification email shortly.
There was a problem. Please refresh the page and try again.