A Fight Between AMC And A Small Movie Theater That Could Have Big Ramifications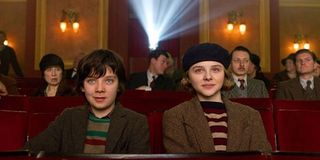 Despite a few rousing successes, the overall box office in 2014 was down 5.2% from the year before. That's hundreds of millions of dollars. In this landscape, where movie theaters are scraping and fighting for every dollar, looking for any competitive advantage, one lawsuit claims that big chains have an inside track, and an ongoing legal battle between giant AMC and a small collection of theaters could have a big impact on the industry.
In January 2014, Cobb Theaters filed an antitrust lawsuit against AMC Entertainment, the nation's largest theater chain, alleging their tactics and practices amount to conspiracy to commit competitive harm. According to The Hollywood Reporter, their case just took a huge step forward, as last Friday, U.S. District Judge Eleanor Ross denied AMC's motion to dismiss, thus allowing the case to progress.
Cobb's complaint alleges that AMC uses their dominant position in the marketplace—69% in the region where Cobb operates—to coerce studios and distributors into limiting their competitors' access to major releases. They say AMC demanded preferential treatment, and that after this ultimatum came down, Cobb theaters lost out on Sony titles like The Amazing Spider-Man, Zero Dark Thirty, and This is the End, and Warner Bros. changed the terms on The Hobbit: The Desolation of Smaug to make them less than optimal for smaller theaters.
Another big theater chain, Regal Entertainment, recently beat a similar case over certain geographical regions getting exclusive rights to first-run films. Ross' decision isn't a judgment or ruling on the case, though she was convinced that Cobb presented enough evidence and support for their claims that the situation warrants further investigation. She wrote both that the plaintiff's theaters received "fewer high-grossing, popular films," as well as that distributors, specifically Sony, "honored AMC's request for preferential treatment."
Now that the case against AMC is moving on into the discovery phase, meaning that we may soon see information coming to light about interactions between AMC, various distributors, and major Hollywood studios. This will be an interesting case to watch unfold, and should Cobb go on to win their case, to prove that AMC did indeed leverage their position into unfair gains, it could have a huge impact on the industry as a whole.
If nothing else, such a decision would level the playing field, at least to some degree, between large and small theater chains, allowing less extensive networks equal access to major movie releases. In theory, this will offer patrons a wider range of options when it comes to going to the theater. The idea is to entice them to actually go to the movies rather than opting to watch them at home as more and more people are doing these days with the continuing expansion of VOD and streaming options available to consumers.
Your Daily Blend of Entertainment News
Your Daily Blend of Entertainment News
Thank you for signing up to CinemaBlend. You will receive a verification email shortly.
There was a problem. Please refresh the page and try again.