The First Batman V Superman Trailer Will Screen Here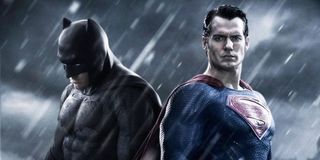 It may still be a year before we see Zack Snyder's highly-anticipated Batman v Superman: Dawn of Justice hit theaters in its entirety, but the long-awaited trailer may finally be upon us. While a number of unofficial rumors have spread in past months attaching the trailer to a handful of films, this latest confirmation appears to be official and promises it will indeed be attached to Mad Max: Fury Road.
Collider has just reported that sources close to the film have confirmed its running prior to Mad Max: Fury Road, which makes sense as the Tom Hardy-led CGI action extravaganza is Warner Bros.' first big movie of the summer. We've heard this before, sort of. Prior to today, Batman v Superman has been reported on more than one occasion to be attached to films dating all the way back to November of last year. It was said to be showing before The Hobbit: The Battle of the Five Armies and later Jupiter Ascending, neither of which panned out. But it looks like we finally have something concrete.
According to the author's sources, Warner Bros. has a bit of uncertainty around releasing the trailer while Marvel's upcoming summer blockbuster Avengers: Age of Ultron makes its sure-to-be epic opening theater run. Therefore, the studio is likely to wait until Mad Max, which opens May 15, in order to avoid those first two weeks of mayhem caused by the massive Avengers sequel. Following that logic, the Batman v Superman conversation is far less likely to get lost or muddled due to all of the Marvel hoopla. Not to mention, Disney's Star Wars: The Force Awakens is also set to run its trailer prior to Age of Ultron, which would further put at risk BvS' chances of gaining momentum on social media outlets and potentially spark conversations of comparison, which could alter Warner Bros.' planned strategy. Waiting until Mad Max seems like be a safe and strong approach as, in theory, it should allow Batman v Superman to be at the center of discussion, rather than just a passing note.
From the sounds of it, however, there's a longshot chance that the trailer for the Ben Affleck/Henry Cavill vehicle may still show up ahead of Avengers: Age of Ultron. But it will, regardless, be seen ahead of Mad Max: Fury Road, so if you see the lattermost in the theater, you will be graced with the long-awaiting footage, according to reports. Until then, there's always this little fan-made trailer to help keep you excited.
Batman v Superman: Dawn of Justice hits theaters March 25, 2016. Along with the above-mentioned Ben Affleck and Henry Cavill, the WB/DC film will also introduce Gal Gadot's Wonder Woman and see Jason Momoa's Aquaman, Amy Adams' Lois Lane, Jesse Eisenberg's Lex Luthor and more sharing some of the spotlight.
Your Daily Blend of Entertainment News
Your Daily Blend of Entertainment News
Thank you for signing up to CinemaBlend. You will receive a verification email shortly.
There was a problem. Please refresh the page and try again.