First Hateful Eight Picture Shows Us A Murderer's Row Of Talent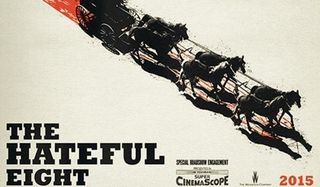 Samuel L Jackson has Tweeted the first picture from the rehearsals for The Hateful Eight, and it's a gentle reminder of just how much acting talent is involved in the film. Production on Quentin Tarantino's upcoming western is due to start shooting imminently in Colorado, but Samuel L Jackson couldn't resist giving fans a sneak peak as the director talks his cast through the film and their characters.
So who was Samuel L Jackson slyly taking a picture of while Quentin Tarantino waxed lyrical about his upcoming epic? Well there was Tarantino himself, who had his back to the camera of the above image, while the rest of the actors in the picture actually make up the titular octet. In fact, Quentin Tarantino has already announced their character names for the The Hateful Eight too. Samuel L Jackson will play a bounty hunter named Major Marquis Warren, Jennifer Jason Leigh is criminal Daisy Domergue, Kurt Russell is John "The Hangman" Ruth, Walter Goggins is Chris Mannix, Demian Bichir is Bob, Tim Roth is Oswaldo Mobray, Michale Madsen is Joe Gage, and Bruce Dern will portray General Sandfor Smithers. There was no sign of Channing Tatum in Samuel L Jackson's picture, though. The 22 Jump Street star has an unspecified role in the film, just like his co-star in the comedy, Jonah Hill, had in Django Unchained.
Whether Quentin Tarantino will actually be happy with Samuel L Jackson's decision to upload such a sneaky picture is debatable. The filmmaker flew into a frenzy earlier this year after the script for The Hateful Eight was leaked onto the internet. At the time he even declared that he wouldn't film the movie and would instead publish it as a novel. He has since calmed down a tad, though, and it's probably safe to assume that Samuel L Jackson asked for Quentin Tarantino's permission before he uploaded his pictures. You can check out another image from the Pulp Fiction actor below, which gives us a better look at Quentin Tarantino too.
You want to see some more? Thought so. How about Samuel L Jackson riding a horse? You'd have to be crazy to not want to see that. Enjoy!
The Hateful Eight's release date hasn't been confirmed, but it's expected to be with us by the end of 2015. It wouldn't be too surprising if Quentin Tarantino us aiming for a Christmas Day release date, as he has done in the past with both Jackie Brown and Django Unchained. The fact that the latter went on to become his highest-grossing theatrical release to date proves that decision worked rather well.
Your Daily Blend of Entertainment News
Thank you for signing up to CinemaBlend. You will receive a verification email shortly.
There was a problem. Please refresh the page and try again.