First Look at Lady Cillian Murphy In Peacock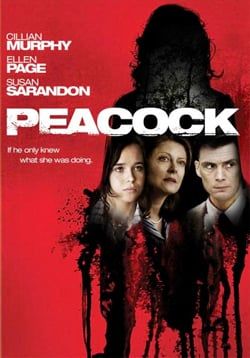 Michael Lander's Peacock promises to be an interesting piece. Cillian Murphy plays John Skillpa, a quiet bank clerk living in the town of Peacock, Nebraska, and after a train crashes in his backyard, he can no longer hide the secret of his multiple personality, Emma, who takes care of him. If that's not weird enough, after he reveals his secret to the town, he has to convince them that his personalities are husband and wife. What?!
The movie is slated as a psychological thriller, and after that description the most intriguing part of the film seems like it would be just how they make that synopsis taught and suspenseful. The tag line is "If he only knew what she was doing," so one might surmise that "she" starts doing a little murdering along with his laundry.
The first images from the film dropped today over at Shock Till You Drop and at least one will turn a few heads. We're getting not only our first look at the cast, but our first look at Emma, which turns out to be the Scarecrow in full drag. It's not RuPaul drag, he's just dressed as a nice lady you might see about town. It's an interesting look to be sure.
The cast is chock full of greats starting with Cillian Murphy, followed by Susan Sarandon, Ellen Page, Bill Pullman and Josh Lucas. This whole idea sounds like it's going to be incredibly fascinating whether it's a thriller or not. We'll be keeping a close look out for more information as well as a trailer which can't bee too far behind.
Your Daily Blend of Entertainment News