First Look At Seann William Scott And Jay Baruchel In The Hockey Comedy Goon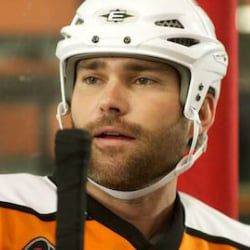 You know how I know Jay Baruchel is really, really Canadian? Well, beyond the maple leaf he has tattooed on his body, he just finished making the hockey comedy Goon with fellow Canuck Evan Goldberg, and it's not just the next movie on his list, but a passion project. Not to traffic in ugly stereotypes, but there aren't many people who weren't born above the 49th parallel who care about hockey that much.
Anyway, Goon is being presented out at the American Film Market this week in an attempt to get buyers interested, and MTV didn't just talk to Baruchel about the project, but got the first images from the film as well, one of which features Seann WIlliam Scott-- a Minnesotan, but close enough-- landing a punch out on the ice. His character, Doug, is more accustomed to bar brawls than organized sports, but he get recruited by his pal (Baruchel) to act as an enforcer for a local minor league hockey team.
Baruchel emphasized that the movie is a hard R, and MTV described it as a "really violent Happy Gilmore"-- given the amount of punching in that film, that's actually kind of impressive. Here's how Baruchel described the goals of the film:
With the amount of stars in its lineup Goon seems like a safe bet for distribution, no matter how danged Canadian it truly is. Keep an ear out for news about a possible pickup at the AFM, and in the meantime, click on either of the two images below to see the full set of three at MTV.
Staff Writer at CinemaBlend
Your Daily Blend of Entertainment News
Thank you for signing up to CinemaBlend. You will receive a verification email shortly.
There was a problem. Please refresh the page and try again.