First Official Photos From Red Riding Hood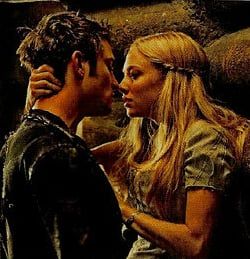 After over a year of waiting, this is our first look at Catherine Hardwicke's take on the classic fairy tale, Red Riding Hood. We first heard about the film last August and since then there have been ups and downs, but it seems the Twilight director is finally making some headway.
The images show off the film's star, current "it" girl Amanda Seyfried, looking all sexy and doe-eyed like you might expect from a dark retelling of Red Riding Hood starring Amanda Seyfried. They don't give much away, but the blurb in the EW clipping fills us in on the goings on in the fairy tale realm, including the introduction of Gary Oldman, who will play a "Witchfinder General" who shows up in Red's town to help cleanse it of evil.
Catherine Hardwicke had this to say about her flick:
Red Riding Hood isn't that far from release, March 11 of next year, so expect these image to be the first in a flood of marketing from the piece. Scope it out below.
Your Daily Blend of Entertainment News
Thank you for signing up to CinemaBlend. You will receive a verification email shortly.
There was a problem. Please refresh the page and try again.