First Order Of The Phoenix Stills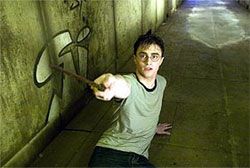 It's been too long since we've had any real Harry Potter news, but the drought is over. The first real stills from Order of the Phoenix have been released online to Scotsman.com, and it looks like Harry Potter has a Mohawk.
I've posted one of the two official stills to your right, to see the other one you'll have to click over to Scotsman.com. The second still is far less interesting, but the pic to your right has me fascinated. Is it just me or is Daniel Radcliffe doing his best Ewan McGregor impression? It looks like someone took Trainspotting and crossed with with Prisoner of Azkaban.
One thing is for certain, Radcliffe is definitely growing up. Seriously though, what's up with his hair? Maybe he's been cursed by Mr. T. Outside the picture, he's supposed to be facing down another Dementor. Maybe he's had the fashion sense scared right out of him.
UPDATE! Warner Brothers has sent us high-res versions of these pictures, as well as several others! To see them all, visit our Potter stills gallery here.
Your Daily Blend of Entertainment News
Thank you for signing up to CinemaBlend. You will receive a verification email shortly.
There was a problem. Please refresh the page and try again.