First Transformers Teaser Poster!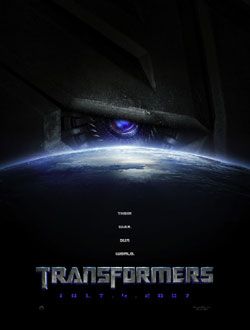 Wow. It's actually happening. I mean, we've been talking about the production of a live action Transformers movie for years now, and even though intellectually I knew it was coming, and that it was really being made… somehow it never seemed real.
Well now we have some sort of tangible proof. The first teaser poster for Transformers has been released to AICN, and it's pretty freakin cool. I've got a smaller version posted to your right, but this is AICN's exclusive, so if you want to see it bigger, you'll have to click over there.
Before posting this sucker I took a minute to drift over to a couple of different Transformers fan sites to gauge their reaction. Predictably, they've found something to whine about. They're actually complaining about the color of the eye. "Megatron's optics should be red!" was the first whine I encountered. Let's hope Michael Bay and his producing team ignore the idiots like that, and simply focus on making a good movie, true to the spirit of the cartoon and not mired in details. I think this poster is an indicator that they're on the right track.
Come on. That's cool.
Supposedly there will be a series of individual, transformer character posters further down the line. For now this is just a teaser. Drink it in, and then click over to the movie's newly active official site here for even more coolness involving the design of the first Transformers teaser poster.
Your Daily Blend of Entertainment News