Flash Gordon 2 Is Happening, Get The Details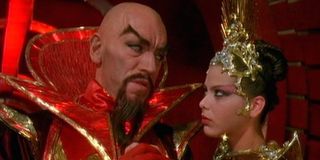 Flash Gordon has had one heck of a run. He first appeared on screens back in 1936 in the epic 13 installment science fiction film serial. He then appeared again in the 80s on both big and small screens, followed by another return in 2007. Well, folks, the legendary character back at it, set to make yet another feature film appearance in the now-fully-confirmed upcoming Flash Gordon 2.
He may have been conceived over 80 years ago, but it turns out Flash Gordon is as relevant as ever in 2015. Can his reputation be salvaged and his perception in the eyes of fans be altered? We are sure to find out when the character is reprised in a film that will act as a sequel to the 1980 Mike Hodges-directed Flash Gordon starring Sam J. Jones. Details are a bit spotty at the moment but thanks to Jones' recent interview with Den of Geek we know a few key points. Here's what the actor shared about the project:
There's no word yet as to who will embody the character but Jones made it very clear he'd be open to just about anything. I believe his exact words were "however they want to use me," which pretty much gives producers the green light, whether they want him to play an older Flash, a smaller role in the film or maybe even a potential mentor to a younger Flash. In joking with Reilly about the prospect of the studio going with a younger model, Jones promised to outdo him in every way, saying "If he can do 100 push-ups, I can do 150 push-ups." I mean, with a build like Jones,' I don't think anyone's questioning the man's capabilities.
The character of Flash Gordon is a football player who travels to outer space, visiting the planet Mongo where he and his friends fight the tyrant Ming the Merciless in order to save planet Earth. Flash Gordon developed quite a devoted following over the years, much due to the 1980 cult film with its campy and overtly fun style. Sam J. Jones' Flash Gordon most recently appeared in a hilarious bit in Seth MacFarlane's Ted, a cameo sequence that undoubtedly worked wonders for both the actor and character.
Nothing has been confirmed as to Flash Gordon 2 expected release date but more details are sure to come.
Your Daily Blend of Entertainment News
Your Daily Blend of Entertainment News
Thank you for signing up to CinemaBlend. You will receive a verification email shortly.
There was a problem. Please refresh the page and try again.