Footloose Star Kenny Wormald Could Play Johnny Castle In The Dirty Dancing Remake As Well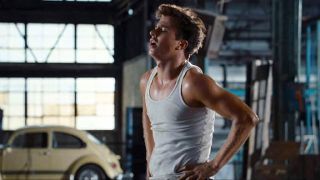 (Image credit: Paramount Pictures)
There's been a lot of buzz building around the upcoming Footloose remake in the last few months, not all of it necessarily good. Even the film's director Craig Brewer, previously famous for Hustle & Flow and Black Snake Moan, spend a lot of time on his Twitter account responding to people both automatically hostile toward his remake and the ones who caught an advance screening of the movie and loved it. The proof will come when the movie finally opens on October 14, but either way there will still be high expectations for the movie's star, Kenny Wormald. After all, the last guy to come out of nowhere, play Ren McCormick and kick off his Sunday shoes turned out to be Kevin Bacon, and that guy turned out OK.
Wormald, who has never acted before and was cast largely for his dancing ability, would be smart to find another dance-centric role to keep showing off his talents. You may already be thinking of the obvious answer, and don't worry, Hollywood apparently is too. Moviehole's Clint Morris passes on a rumor that "He's one of the names being tossed around as a possible Johnny Castle for the Dirty Dancing remake." So far all we know for sure is that the Dirty Dancing movie is happening, that it will be directed by High School Musical mastermind Kenny Ortega and written by Maria Maggenti. Oh, and we think it would be awesome if they cast some talent from So You Think You Can Dance. I guess that doesn't count as actual information, though.
I've got nothing against Wormald taking over for Patrick Swayze in the Dirty Dancing remake-- by all accounts he's charming, has good screen presence, and can dance like nobody's business. But isn't it a little redundant to remake two 80s dancing classics and have the same guy in both of them? Isn't it a little better to spread the wealth? I mean, Zac Efron's not up to anything right now. Give Kenny Wormald a career, Hollywood, but don't paint him into a corner that slowly limits his 80s remakes and eventually leads to a Gymkata remake. Nobody deserves that.
Your Daily Blend of Entertainment News
Staff Writer at CinemaBlend