Four Major Theater Chains Are Boycotting Idris Elba's Latest Film, Here's Why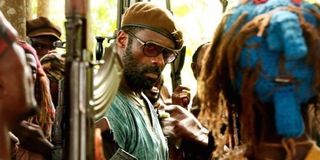 True Detective director/producer Cary Fukunaga's latest project, Beasts of No Nation, starring Idris Elba, will make its theatrical debut sometime later this year. But if you plan on seeing it on the big screen, you'd better hope you live near an arthouse theater, or you may just be out of luck. That's because four major theater chains are now boycotting the film due to Netflix's plan to release the movie simultaneously on their streaming service.
Beasts of No Nation follows a child soldier named Agu as he fights a brutal civil war in an unnamed country in West Africa. It turns out the film has found itself waging another war, though, this time with the country's four largest exhibitors: AMC, Cinemark, Regal and Carmike. It was earlier this week when news hit that Netflix purchased Beasts of No Nation for $12 million, with plans to debut the film simultaneously both in theaters and on its streaming service. Now, according to Variety, the streaming giant's controversial release strategy has the aforementioned major theater chains refusing to show the war drama, calling it a violation of the typical 90-day theatrical debut window adhered to by traditional films prior to hitting the home entertainment market.
Netflix's theatrical release plan for Beasts of No Nation is directly related to their award's push for the film. In order to qualify for next year's Academy Awards, something they're absolutely seeking with the feature, it must be shown on the big screen during the calendar year. Lucky for Netflix, it looks like they'll have no issue securing a release in "select theaters." While their upcoming film may be completely shut out by "the big boys," independent theater chains like The Alamo Drafthouse – which operates 19 theaters across Texas, New York and California - are open to screening the picture. The company's founder and CEO, Tim League, had this to say about the whole ordeal:
League went on to explain how it stepped up in the past, running films like Snowpiercer, a popular sci-fi film that had a similar on-demand release strategy last summer. He doesn't view himself as a competitor to companies like Netflix, but rather more of a companion distributor. Insiders say Beasts of No Nation could potentially secure screenings at 200 to 250 theaters.
This is just another step in the changing media distribution landscape. Netflix previously announced plans to release the sequel to Crouching Tiger, Hidden Dragon through its streaming service, and have set it to debut August 28th. With content streaming becoming increasingly popular, we're bound to see many more situations arise just like these in the coming years. If the Netflix home release strategy for the above-mentioned films proves successful, we could be amidst a game changer.
Your Daily Blend of Entertainment News
Thank you for signing up to CinemaBlend. You will receive a verification email shortly.
There was a problem. Please refresh the page and try again.