Freddie Highmore Up For Spider-Man? Here's What He Said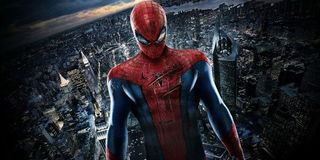 Freddie Highmore has confirmed that he would love to star as Spider-Man in Marvel and Sony's upcoming reboot of the beloved superhero. However, there's just one problem: we're still not exactly sure if it will be Peter Parker or Miles Morales who will don the iconic spandex. If it's the former then Highmore might be in the running. If it's the latter then he definitely won't be.
Highmore made this admission to IGN, who he was talking to about the upcoming new season of Bates Motel. In fact Freddie Highmore's performances throughout the first two seasons of Bates Motel have led many moviegoers to tout the young actor as a possible replacement for Andrew Garfield. And if Highmore was offered the chance to star as Spider-Man then he would jump at the opportunity. In fact he sees numerous similarities between Parker and Norman Bates, who he portrays in Bates Motel. He told IGN:
It has previously been suggested that Sony and Marvel are looking to cast a much younger actor than either Tobey Maguire or Andrew Garfield, both of whom previously played Peter Parker, for their impending reboot. Ever since the upcoming alterations to Spider-Man were announced the likes of The Maze Runner's Dylan O'Brien and Fury's Logan Lerman have allegedly already auditioned for Parker. Highmore is still a firm outsider for the role, but if one of the other theories that has been touted for the forthcoming Spider-Man film proves to be correct then the 23-year-old will be out of the running all together.
That's because it has also been suggested that Marvel and Sony are considering either replacing Peter Parker with Miles Morales as Spider-Man or hiring a non-white actor to play the titular role. And until Marvel/Sony announce which direction they are taking the blockbuster and character then Highmore will just have to continue suggesting how much he wants the part so that he can be repeatedly linked with the film.
But would Freddie Highmore make a good Spider-Man? Well, even though his career is still in its infancy he has more than proved that he has a unique screen presence that can be both timid and imposing thanks to his roles in the aforementioned Bates Motel, as well as The Spiderwick Chronicles and Charlie and the Chocolate Factory. But it's still a long-shot that he'll actually get the chance to play Spider-Man.
We can expect an announcement regarding the new Spider-Man in the next few weeks, since the webbed-wonder is expected to make his debut in Marvel's Captain America: Civil War in 2016 ahead of the debut of his latest origin story with Sony in 2017.
Your Daily Blend of Entertainment News
Your Daily Blend of Entertainment News
Thank you for signing up to CinemaBlend. You will receive a verification email shortly.
There was a problem. Please refresh the page and try again.