The Spider-Man Director Search Might Not Be Over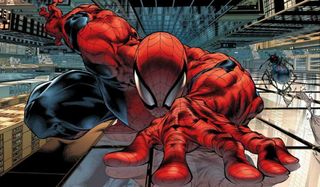 Yesterday's report that Cabin in the Woods helmer Drew Goddard would both be writing and directing the new solo Spider-Man movie for the MCU set fire to the rain of fanboy nation. Before Marvel and Sony came to an understanding, Goddard was reportedly attached to the planned Sinister Six movie, and fans were all too pleased to hear that he was on track to stick with the web-slinger. However, new information reveals that the search for the new Spider-Man director is far from over.
While The Wrap confirms that Goddard is contention, to say that he has landed the coveted gig is pre-mature. Bolstered by information from studio insiders, the trade reports that Goddard is one of "several others" being considered, and that he hasn't even met with Marvel yet. On the other hand, he is planning on having talks with them, and multiple sources peg him as the front-runner.
The trade didn't reveal which other names were being considered for the job just yet, but Goddard is beloved by his fans and he's an excellent choice to lead such a venture. He's been involved in the Daredevil universe, working on Marvel and Netflix's first series in their Defenders series. From what we've seen so far of the rated "PG-16" streaming show, Charlie Cox looks pretty spectacular as the Man Without Fear, and Vincent D'Onofrio couldn't be more perfect for the role of Wilson Fisk, aka Kingpin. It seems like this is a superhero property that Goddard just gets, and fans no doubt want to see him bring a similar edge to the Spider-Man universe.
After the Sam Raimi films ended on a low note with the Venom-infused Spider-Man 3 and the Amazing Spider-Man movies from Marc Webb didn't thrill Marvelites as Sony hoped, it's high time that one of the most popular comic book heroes of all time gets another solid adaptation. The first Spider-Man from the historic joint venture between Marvel and Sony will hit theaters on July 28, 2017, but the web-slinger will first make an appearance in one of the MCU movies beforehand. The obvious choice would be Captain America: Civil War, which already has Chris Evans' Cap, Robert Downey Jr.'s Iron Man and Chadwick Boseman's Black Panther in a war between superheroes.
Though neither studio would confirm this assertion, there's a lot of work to be done beforehand. In addition to finding a director, they also have to choose a new Spider-Man. Despite popular opinion, I don't believe Andrew Garfield was a bad choice for Peter Parker. That said, he won't be coming back to the universe moving forward, and The Wrap reports the new Spidey will be "high-school-aged." Reports on Reddit claimed that The Maze Runner star Dylan O'Brien was locked in the role, but that has since been debunked.
Keep your heads up, Spidey fans! All will be revealed in time.
Your Daily Blend of Entertainment News