Fund David Lynch's Next Documentary And Win His Self-Portrait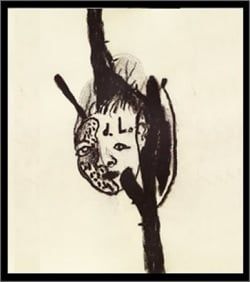 David Lynch has never been as interesting as the films he creates, but really that's part of the appeal-- watch Lost Highway and wonder what kind of psychopath could put something like that together, but follow him on Twitter and read his recommendations for the best wood-chopping axes. I love following his Twitter feed but the mundanity is probably what's kept me away from Lynch One and Lynch Two, two feature-length documentaries made about the director. When it comes right down to it, I'd rather not hear Lynch explain Mulholland Drive to me, and to think of Lynch the person as Gordon Cole from Twin Peaks and nothing more.
But hey, Lynch has plenty of devoted fans who want to learn more and more about them, and those are the fans the producer and director of Lynch Three want to hear from. They're soliciting fan donations to fund the next film, and on the film's official site are offering a pretty sweet reward. For a donation of $50 you can win a limited-edition print of the self-portrait drawn by Lynch seen above, either on a poster, a tote bag or T-shirt. Donors also get access to exclusive footage from the film and early news, but really, it's the self-portrait that makes it all worthwhile.
So what do you say-- is another unfettered look into Lynch's brain worth the $50? Like I said I'd rather maintain the mystery, but that self-portrait is pretty tempting. It would go great next to my Twin Peaks box set.
Your Daily Blend of Entertainment News
Staff Writer at CinemaBlend