The Game Of Thrones Movie: Is It Happening, Or Not?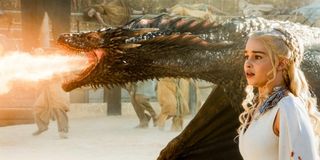 Aside from the fate of Kit Harington's Jon Snow, the biggest question facing Game of Thrones fans is whether or not there will be a movie. George R.R. Martin, who wrote the fantasy novels on which the show is based, has been teasing one for the past year or so, and a recent report claims that it definitely is happening. But tides turn quickly, and that report might already be in jeopardy.
The U.K.'s Daily Star ran with a story saying that George R.R. Martin confirmed the film, going so far as to quote him as saying,
The last book released in the Game of Thrones book series was the fifth installment, A Dance With Dragons, while The Winds of Winter and A Dream of Spring mark the final two entries. The HBO series has been diverging from the source material quite a bit in recent seasons, though Martin admitted that the show would eventually surpass the events of the books before he's finished writing them.
However, shortly after this report began making the rounds, BuzzFeed quoted an HBO rep as saying there were absolutely no plans for a Game of Thrones movie just yet. Additionally, Martin posted on his official blog:
This falls more in line with comments made by HBO President Michael Lombardo when he placed the future of a Game of Thrones film in doubt. He'd spoken about this possibility this past March. He explained that the show promises to see HBO subscribers to the end of its events, and that to then ask them to pay an additional expense in order to see the ending would go against this format. Though, to be fair, a continuation of the series wasn't the plan according to The Daily Star's source. In fact, the Daily Star further reported that based on information from an undisclosed production insider, the film version of Game of Thrones could very well go back in time in order to incorporate characters who've died already in the series.
Since the rise in popularity for Game of Thrones began, there have been a slew of companion materials to keep fans occupied in between seasons. The World of Ice & Fire, for example, offers an in-depth look into the history of Westeros and the surrounding lands and cultures. Meanwhile, Telltale Games offers its own episodic video game experience in telling the story of House Forrester. All of this means that there's a large host of materials to pull from outside of the series proper, should any Game of Thrones movie ever go into production.
While we wait to hear more on this front, the cast has been busy filming Game of Thrones Season 6, which will premiere next year. In the meantime, you can catch up or rewatch the action of Seasons 1 – 5 on HBO Go or HBO Now.
Your Daily Blend of Entertainment News
Thank you for signing up to CinemaBlend. You will receive a verification email shortly.
There was a problem. Please refresh the page and try again.