Ghostbusters Is Looking To Cast Melissa McCarthy, Get The Details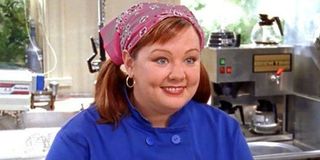 When the reboot of the Ghostbusters film was verified and confirmed the notion of having an all-female team, the first name that popped up in the mix was Melissa McCarthy. Knowing that Paul Feig was directing, it was a clear choice since the two have worked together so successfully with films such as Bridesmaids and The Heat. And then when the hacked Sony e-mails listed out their top picks, McCarthy's name was dropped once again. So will the beloved comedian suit up in Ghostbusters 3? More news has come out, and now we at least know that she is seriously wanted for the lead.
The Hollywood Reporter reports that the actress is in talks to star in the female reboot, but she has several hurdles to overcome before she can get involved. McCarthy has a jam-packed schedule lately due to her CBS TV show, Mike & Molly as well as the Universal comedy movie, Michelle Darnell. Apparently though, sources say that despite McCarthy's busy schedule she could potentially have time for shooting. If sources are correct, McCarthy will shoot Michelle Darnell in mid-March, giving her time to shoot Ghostbusters in June. But, THR also says that these sources caution that there is a chance her schedule won't work out. So once again, confirmation of McCarthy's casting is up in the air.
There have been many rumors circulating of who else could star in the Paul Feig flick including Jennifer Lawrence, Emma Stone and Rebel Wilson. At this stage, it doesn't look like Lawrence or Wilson are contenders, but Stone is said to be available in the summer. THR also reported that Jillian Bell from Workaholics and Cecily Strong from Saturday Night Live are due to meet with Feig in regards to the film. Despite all the names though, McCarthy is the focus at this stage, and while there is no official offer yet, the discussion is strong, and the studio is compiling backup names in case McCarthy cannot star.
McCarthy and Feig just recently wrapped up their third movie together, Spy. The female spy comedy, which stars McCarthy as a CIA analyst, also includes some other big name actors including Jude Law, Jason Statham and Rose Byrne. The film is scheduled for release on May 22, 2015.
Melissa McCarthy has been on the rise in the past few years, and while it is completely warranted by her hilarious and stellar performances in popular female-driven comedies, Paul Feig seems to recognize that stardom, and is not willing to let it go. Her name now has some weight to it, and even the original Ghostbuster, Bill Murray listed her name first in his own list of the females he'd like to see in the reboot. McCarthy has a long and hysterical career ahead of her, and we would be nothing but thrilled to see her name attached to one of the classic comedies of our age.
Your Daily Blend of Entertainment News
Thank you for signing up to CinemaBlend. You will receive a verification email shortly.
There was a problem. Please refresh the page and try again.