The Golden Globes' Best GIFs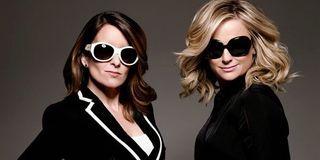 Last night the Golden Globes doled out plenty of booze to the stars and plenty of laughs and surprises for those of us at home. Dallas Buyers Club and American Hustle came away as big winners, while supposed frontrunner 12 Years a Slave got shut down for every one of their seven nominations except (inexplicably) Best Motion Picture - Drama.
You can see the full list of winners here. But below I'll be reliving some of the Globes best moments through that wonderful web portrait known as gifs.
Before the Globes began there was the normal nonsense on the red carpet, including the Mani-Cam which Elizabeth Moss--who took home a Globe for Top of the Lake--gave a special one finger salute.
I don't know what Girls creator/star Lena Dunham was asked here, but this is the face I made when Brooklyn Nine-Nine beat out Girls and Parks and Recreation for Best TV Comedy.
Jennifer Lawrence was rocking an old-school Ariel dress (as EW pointed out), and took to the carpet with her usual lovable shenanigans.
But when she won, she was genuinely and sweetly surprised. The only surprise in her acceptance speech was how uncharacteristically unwacky it was. As I wondered when the backlash might begin for this high flyer, one of the attendees of the Golden Globe party I was at remarked, "Ugh! I'm so over her." And so it begins.
Also in attendance was TV star Julia Louis-Dreyfus who took the opportunity of her nom for the movie Enough Said to sit with the cool film kids. Still, she's too cool for Reese Witherspoon's selfie. (Doesn't she know who she is!?)
But later hosts Tina Fey and Amy Poehler called out Juila's return to the TV side of the room, where the Veep star was chowing down while looking totally glam.
Speaking of Amy and Tina, they were on fire last night, throwing down saucy jokes and winsome bits. They knew when to play to the camera...
And to the crowd. One standout skit had Poehler playing Fey's secret, snotty love child, Randy, who took to the audience to meet his father. Sidenote: We would be totally on board for Tina Fey and Idris Elba having a love child. It would be beautiful, smart and just perfection. Look at Idris! He's down to make this happen.
Beating out Frozen's "Let It Go," Bono was the surprise winner of Best Original Song for a Motion Picture, but he'd show no love to P Diddy. #broburn
When it came to Poehler though, Bono was all over her! Awaiting the results of Best Performance by an Actress in a Television Series, Comedy or Musical, the U2 frontman gave the Parks and Recreation star a warm massage. And once she won, things got really physical!
It was touching that Poehler was genuinely stunned she won, and even more so that her TV family was overjoyed for her.
Other lessons from the Globes: Aaron Paul is the only one allowed to say "Yeah Bitch" when accepting an award.
Leonardo DiCaprio is a Philomaniac.
And most importantly, Emma Thompson need not win a Golden Globes for Saving Mr. Banks to win the night.
Special thanks to Crushable, Zap2It, the Huffington Post, Hitflix, and Carbonated.tv for help with the gifs. But let it be known: I made that Philomania one myself. You're welcome, internet.
Your Daily Blend of Entertainment News
Staff writer at CinemaBlend.
Your Daily Blend of Entertainment News
Thank you for signing up to CinemaBlend. You will receive a verification email shortly.
There was a problem. Please refresh the page and try again.