Guardians Of The Galaxy 2 Will Not Feature This Character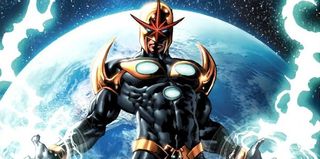 Minutes after Guardians of the Galaxy 2 was confirmed, the conversation shifted toward what new characters might join the fray. It was assumed that Peter Quill's father – the mysterious role – would be developed. And eagle-eye Marvel fans combed the backgrounds of key scenes in The Collector's lair to look for hints of Guardians characters who might be significant in the sequel. One such hero was Nova, but James Gunn's now putting the kibosh on a possible appearance.
While promoting the DVD release of Guardians of the Galaxy, James Gunn admitted to MovieWeb that Nova will not be part of Guardians of the Galaxy 2, though he could be part of future installments. Gunn said...
Nova, in Marvel history, was selected by a dying Rhomann Dey to lead the Nova Corps (introduced in Gunn's movie) and battle such intergalactic forces as the Skrulls. He fights on his own, and also battles alongside the New Warriors. But the reason that many believed Adam Warlock, not Nova, would appear in Guardians of the Galaxy 2 is because there was a busted shell of a casing that was rumored to contain the important hero… and was revealed to be split open when the Collector's lab was blown up.
As Marvel continues to explore galaxies in the Phase Three portion of the studio's landscape (and beyond), it's easy to see how and why Nova needs to be integral to the larger stories being told. Doctor Strange and Captain Marvel will continue to expand the stories introduced in Guardians of the Galaxy, and Nova very easily could be introduced as a supporting character or component in one of those films. Because we already know all of the standalone movies that Marvel wants to do between now and 2020, and Nova isn't on that list.
Guardians is one of those properties Marvel could continue to milk without having to tie it into what's happening with The Avengers. And if there's a third GOTG, then we can assume that Nova will appear there – if Gunn is still piloting that ship. We shall see.
Managing Director at CinemaBlend. ReelBlend cohost. A movie junkie who's Infatuated with comic-book films. Helped get the Snyder Cut released, then wrote a book about it.
Your Daily Blend of Entertainment News
Thank you for signing up to CinemaBlend. You will receive a verification email shortly.
There was a problem. Please refresh the page and try again.