Why Does Guardians Of The Galaxy Vol. 2 Need Vin Diesel?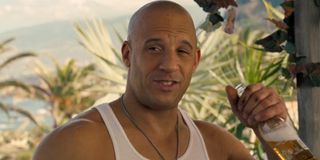 When James Gunn and Marvel bring the swashbuckling deep space adventure back in Guardians of the Galaxy Vol. 2, they'll also bring along a number of familiar faces from the first film. One of these returning actors we now know is Vin Diesel, who voices Groot, the eight-foot-tall alien tree with a limited vocabulary. But given his three-syllable response, and the fact that they already have numerous recordings, some have wondered why bring Diesel back at all?
James Gunn is fond of social media. When interacting with commenters on a Facebook post about his most valuable piece of writing advice, one fan asked if Vin Diesel will be back for Guardians of the Galaxy 2, to which Gunn simply replied, "Yes." (The fan actually asked about GotG 3, which caused a bit of a stir, but that was quickly outed as a typo, not confirmation of a third film.)
It's easy to imagine that the production doesn't particularly need Vin Diesel back as Groot. We saw footage of him recording his catch phrase—he, of course, responds to everything with, "I am Groot"—in French, Russian, and a variety of other languages. You'd think there's only so much you can do with those three words, and one can argue they have everything on tape they could possibly need. And though the character was motion capture, Diesel wasn't the one in the suit. Still, there are reasons to have him back.
In Guardians of the Galaxy, we saw the range Diesel was able to get out of those three simple words, and the depth of meaning he was able to wring out a three syllables. And sure, they could probably piece a movie together just fine with what they already have recorded, but that also seems like it could potentially be limiting. Whatever wacky situations the mismatched crew of space outlaws find themselves in are bound to be different than what they've experienced, and thus require a different response, emotionally and tonally. Just replay what we've already heard feels inauthentic.
To be honest, most of us probably wouldn't notice if they did that, if they didn't have Vin Diesel back. But the talking tree and Rocket, the anthropomorphic raccoon with anger management issues, are, as weird as it was, the emotional center of the film, and going about it like this would make their oddly sweet relationship ring false. Also, Diesel just seems like he'd be a fun dude to have around, and chemistry is important on a movie set.
We're curious to see what Vin Diesel brings back to the role of Groot in Guardians of the Galaxy Vol. 2, but perhaps even more than that, we're just curious to get a look at Groot. When we last saw him, of course, he had been reduced to a sprout in a pot, dancing his wooden ass off behind Drax's back. We can't help but wonder whether or not he'll have regained his full stature next time we lay eyes on the big guy. He does appear to grow rather quickly, so you have to imagine that in the intervening years he's had time to get back to his old self, but we want to see if there have been any changes in the regrowth process.
Guardians of the Galaxy Vol. 2 hits theaters May 5, 2017.
Your Daily Blend of Entertainment News
Thank you for signing up to CinemaBlend. You will receive a verification email shortly.
There was a problem. Please refresh the page and try again.