HBO's Rome Revitalized In Film Form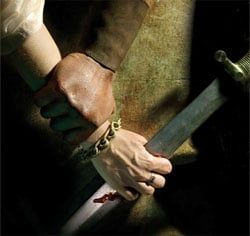 Although the legendary five acre sets have been torn down and the actors moved onto new television series, HBO's Rome might rebuild its empire in movie form. Show creator, Bruno Heller announces that "There is talk of a movie version. It's moving along. It's not there until it is there. I would love to round that show off."
The British show was co-produced with BBC and ran for two seasons, from 2005-07. It followed the happenings of the Roman Empire 50 years before the dawning of Christianity. The show manages to put a face on such historically loaded figures as Mark Anthony and Brutus. It explores the problems that arise when an empire thrives beyond belief and the poor suddenly become wealthy. Heller explained to HBO at the time of the show's run, "Human nature never changes. We see the same problems today — crime, unemployment, disease, and the struggle for social mobility and the pressure to preserve your place in a precarious society."
The show was cancelled after its first season, but surprisingly brought back to life for the second. Sadly, the show was then cancelled after the gigantic sets had been re-built and the actors brought back on. Now, a year later, the leads have places on other television shows. Kevin McKidd is on the soapy Grey's Anatomy, Ray Stevenson is the new Punisher and Polly Walker will be in The Sci Fi Network's anticipated BSG prequel, Caprica. Although McKidd's character, Lucious, passed away in the final season, Heller suggests that he might return. "It was very deliberate that we saw him drifting away but didn't see him atop a funeral pyre."
So where will the movie take us? From Egypt to the messiah, Heller explains to THR, "I discovered halfway through writing the second season the show was going to end. The second was going to end with death of Brutus. Third and fourth season would be set in Egypt. Fifth was going to be the rise of the messiah in Palestine. But because we got the heads-up that the second season would be it, I telescoped the third and fourth season into the second one, which accounts for the blazing speed we go through history near the end. There's certainly more than enough history to go around." That's pretty vague, but it sounds intriguing. Rome was always quite controversial, but tackling the "rise of the messiah" is more loaded than any of the topics addressed on the show. By dropping that phrase, Heller is inviting a maelstrom of Roman proportions. Let's hope he follows through.
Your Daily Blend of Entertainment News
Thank you for signing up to CinemaBlend. You will receive a verification email shortly.
There was a problem. Please refresh the page and try again.