Haley Bennett Takes On Two More Movies In Addition To Malick's Next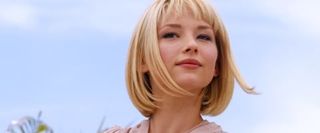 You probably don't know who Haley Bennett is-- and if you think you do, keep in mind she's not Captain America's Hayley Atwell, but a completely different American actress who's had small roles in mainstream films like Music & Lyrics and Marley & Me, and a dynamite supporting part in Gregg Araki's nutty Kaboom. But Bennett is set up to have a very good 2012, with a role in Terrence Malick's upcoming film Lawless, in which she'll star opposite the likes of Ryan Gosling, Cate Blanchett, Christian Bale, and the recently added Natalie Portman. And now Bennett will be keeping even busier this year-- according to Deadline, Bennett has signed on for two new indie films, one of them with an established festival favorite.
It's unclear in what order she'll make them, but Bennet has taken the lead role in both Deep Powder, in production at Killer Films, and Ella Walks the Beach, in which she'll play the title character as she spends 24 hours traveling along the California coastline after she suddenly finds herself single. That one might sound like an unbearable indie slog, but the director is Robert Mitchell, who made his debut last year with the tender and expertly observed Myth of the American Sleepover, which was a big hit among critics at SXSW and Cannes. Given Malick's famously prolonged post-production periods, it's hard to know if these films will surface before Lawless does, but the combination of the three of them ought to be able to put Bennett on the map. Her big break has seemed inevitable for years now, and she seems to have picked a nice range of interesting projects to make it happen.
Staff Writer at CinemaBlend
Your Daily Blend of Entertainment News
Thank you for signing up to CinemaBlend. You will receive a verification email shortly.
There was a problem. Please refresh the page and try again.