Rihanna Rumored To Be Pursuing Role In Scarface Remake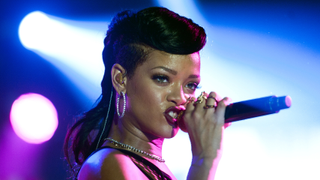 (Image credit: Target Presse Agentur Gmbh / Contributor)
Earlier this year provocative pop star Rihanna tried her hand at acting in the alien invasion action-adventure Battleship. With the tent pole feature that boasted a $209 million price tag tanking hard at the box office, it proved a less than auspicious debut. And while she certainly can't be blamed for this flop, her flat performance did little to help. But no worries, the salacious singer is popular enough that she's already got more movies on the way, including a self-mocking cameo in the Seth Rogen Armageddon comedy The End of the World and a rumored role in the Fast and the Furious 6. But rumor has it that Rihanna is looking to step up her stardom by tackling a major role in Universal's in-development Scarface remake.
Now before you join the ranks decrying a remake of Brian De Palma's iconic 1983 crime drama that made "Say hello to my little friend" a part of the cultural landscape for better or worse, keep in mind his was not the original. That honor would go to the 1932 Scarface, directed by Howard Hawks and Richard Rosson and adapted from Armitage Trail's novel of the same name. Last fall, Universal hired Training Day screenwriter David Ayer to draft a script for this latest reinvention, but little has been heard about the production since then.
Nonetheless, Rihanna is said to hold the 1983 version as a personal favorite, counting Elvira Hancock, the disco diva played by Michelle Pfeiffer, as a fashion idol with "ridiculous swagger." An unnamed source tells The Sun that Rihanna is angling to secure the role of Elvira in Universal's remake. However, it is The Sun we're talking about here, so consider this item with a heap of salt.
I'll believe that Rihanna digs Scarface as well as Pfeiffer's flawless fashion sense in the flick, who could blame her? But while the tabloid's secret source declared of Pfeiffer's part that Rihanna "knows all the words and even has her walk perfected," and supposedly has based some of the characters in her music videos on Elvira, it is a big leap to state definitively that the pop star not only wants the role—or its equivalent in the remake—but also believes she's ready to tackle such a probably demanding part.
Having said all that: who would be a good fit for a modern take on the Scarface story? Share your picks in comments.
Your Daily Blend of Entertainment News
Staff writer at CinemaBlend.