Harry Potter And The Deathly Hallows Part 2 Shatters Midnight Box Office Record With $43.5 Million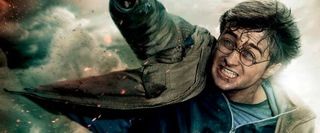 The numbers are in for the last-ever midnight screenings of a new Harry Potter film, and predictably they're huge. Actually, they're even huger than anyone predicted. According to numbers up at Deadline the movie made $43.5 million from midnight screenings last night, shattering the record previously held by The Twilight Saga: Eclipse, which made just over $30 million last summer selling only 2D tickets.
There are a lot of records in place that Harry Potter and the Deathly Hallows Part 2 has every capability of breaking. Eclipse holds the record for biggest single-day with $72 million, and Warner Bros. is predicting it's possible for Harry Potter to make $80 million. The biggest record is held by the studio itself, the $158 million three-day opening weekend for The Dark Knight, and though it will also be the toughest for Harry Potter to break, it's a goal that's easily in sight. Either way, it will easily crush Transformers: Dark of the Moon for the biggest opening of 2011, and if it opens above $141 million it will crack the top 10 grossers of the year in a single weekend.
What's fun about the frenzy around opening weekends of Harry Potter movies is that everybody wins-- the fans are getting another movie in a franchise they love, regular moviegoers are getting films that are worthwhile if not great (and I think this one comes pretty close to greatness), and of course, the movie industry is snapping up tons and tons of cash. They're event movies that everyone can get behind, and even if you couldn't really care less about the Potter franchise, you've got to at least feel good about it opening bigger than The Hangover Part II. We'll keep you up to date on the Potter box office numbers as they come through this weekend, but if you'd rather sleep through it all, just assume that Harry Potter will have taken over the world come Monday.
Your Daily Blend of Entertainment News
Staff Writer at CinemaBlend