Harry Potter Spinoff Fantastic Beasts Movie Series In The Works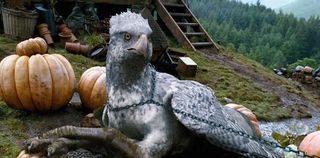 Those of us who read the Harry Potter books as they were being published likely remember the excruciatingly long gap between Harry Potter and the Goblet of Fire (Book 4) and Harry Potter and the Order of the Phoenix. Book 4 came out in 2000, right around the time the Harry Potter craze was first blowing up in the U.S., so the three-year wait seemed particularly long after devouring the first four books. In that space of time, author J.K. Rowling offered fans some new material to satiate our craving for all things Hogwarts, in the form of two books, Fantastic Beasts and Where to Find Them and Quidditch Through The Ages. Proceeds went to Comic Relief. Today comes word that WB is turning the Beasts book into a movie, which, according to Variety, will tell the adventures of the book's fictitious author, Newt Scamander. Rowling will pen the screenplay.
Fantastic Beasts is set up like an encyclopedia, listing off various magical creatures and describing them, including their abilities and appearances, as well as where to find them. Because it's designed as a school textbook, the book also has doodles and notes in the margins, courtesy of Harry Potter and Ron Weasley.
Variety points out that Warner Bros. is looking to develop a new series of films inspired by the Harry Potter textbook, which indicates that this isn't just one feature adaptation but ideally a whole series of films.The studio aims to develop Fantastic Beasts across the their digital, consumer products and gaming units, as well as Rowling's Potter-focused site Pottermore.com.
Given the huge success of the Harry Potter films, it's no surprise that WB would be looking to expand that even further on the big screen, and Fantastic Beasts may be the best way to delve back into the rich and colorful, magical world Rowling has created without tapping back into the source material for remake purposes. The fact that Rowling is set to write the screenplay is encouraging. If anyone's looking to expand on her characters, it should be her. Since finishing up the Harry Potter series, Rowling has moved on to other types of books, with The Casual Vacancy and more recently, the crime fiction novel The Cuckoo's Calling (opens in new tab). In her statement, Rowling is clear that Fantastic Beasts isn't a prequel or sequel to the Harry Potter series, "but an extension of the wizarding world." She goes on to reveal that the story will begin in New York, 70 years before Harry's story starts. Doing the math by what Beasts includes on Newt's background, that will presumably be during Newt's youth.
So, what do we know about Newton "Newt" Aremis Fido Scamander? Rowling offers an introduction to the famed Magizoologist in Fantastic Beasts. Newt was born in the late 1800s and history with beasts spans decades, which offers a lot of potential for a fleshed out story in terms of the time frame. Among his accomplishments throughout his career was creating the Werewolf Register, and getting the Ban on Experimental Breeding passed. He also received the Order of Merlin, Second Class for his services in the study of Magical beasts, Magizoology.
Whether or not any of these noted accomplishments play a part in the plot of the films remains to be seen.And then there's the potential for some exciting and imaginative magical monsters to make their way to the big screen. Beasts classifies a number of scary magical monsters that exist in Rowling's world, some of which have been featured at some point in the books, Hippogriffs, Norwegian Ridgeback dragons and Doxies among them. With all of the magical creatures referenced, and a new lead character to showcase, there's certainly potential for another big franchise here. If you haven't read it, pick up your copy of Fantastic Beasts and Where to Find Them and Quidditch through the Ages here (opens in new tab)
Your Daily Blend of Entertainment News
Assistant Managing Editor
Kelly joined CinemaBlend as a freelance TV news writer in 2006 and went on to serve as the site's TV Editor before moving over to other roles on the site. At present, she's an Assistant Managing Editor who spends much of her time brainstorming and editing feature content on the site.
Your Daily Blend of Entertainment News
Thank you for signing up to CinemaBlend. You will receive a verification email shortly.
There was a problem. Please refresh the page and try again.