Samuel L. Jackson Makes The Hateful Eight Set Sound Cold, Cruel But Incredible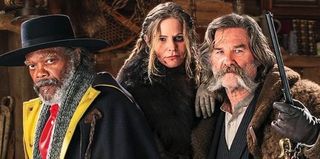 You hear all kinds of stories of the great lengths directors go to in order get their actors in the proper frame of mind to achieve their cinematic vision. Shooting his latest movie, the western The Hateful Eight, Quentin Tarantino employed some rather extreme methods to get the just right edge out of his all-star cast, including cranking up the AC.
Talking to Collider while promoting his next film, Barely Lethal, Samuel L. Jackson discussed the stern measures Tarantino employed and how it forced the cast to form a tight, unique bond. He said:
The plot of The Hateful Eight revolves around a rugged crew of eight (surprise, surprise) downright nasty frontier folk, including criminals, bounty hunters, and lawmen, not that there's always a clear dividing line between these groups. In post-Civil War Wyoming, they find themselves stranded in a vicious blizzard, seeking shelter in the same mountain pass lodge. It may be a western like Tarantino's last film, Django Unchained, but it sounds like a very different kind of deal.
As you probably guessed, this is a tense powder keg of a situation. With Tarantino cranking things up like this on the set in order to elicit the desired response from his actors, it's easy to imagine of what comes across on screen is going to feel very authentic. According to Jackson, the cast forged and even tighter than usual connection, and still keep in more contact that usual as a result of what they went through together.
In The Hateful Eight, Jackson plays Major Marquis Warren, a former Union officer living in the rugged mountains of Wyoming. Kurt Russell and his badass mustache play John Ruth, a bounty hunter en route to Red Rock with a murderous woman in his charge. Jennifer Jason Leigh plays said murderous female prisoner, Daisy Domergue, who sounds like a piece of work. Michael Madsen shows up as rough around the edges cowboy Joe Gage; Tim Roth plays Oswaldo Mobray, an Englishman who is also the new hangman of Red Rock; and Walton Goggins may or may not be a Southern sheriff named Chris Mannix. Rounding out this rogues gallery are Bruce Dern as General Sanford Smithers, a former Confederate officer, and Demian Bichir as Bob, a Mexican man who oversees the lodge, called Minnie's, while the owner is absent—there's got to be more to his story than just that.
Filming on The Hateful Eight kicked off back in January—they shot on 70mm and used an ultra wide aspect ratio, so this picture should be a spectacle to behold—and the movie is set to hit theaters later this year on November 13.
Your Daily Blend of Entertainment News
Your Daily Blend of Entertainment News
Thank you for signing up to CinemaBlend. You will receive a verification email shortly.
There was a problem. Please refresh the page and try again.