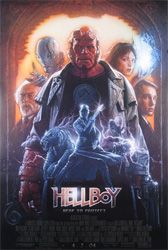 Guillermo del Toro's Hellboy was one of the better comic book adaptations to hit the screen. It had all the things we typically look for in a comic book movie: action, mystery, and most of all – heart. Unfortunately, it didn't have much of an audience, making a sequel a difficult thing to conjure. God knows del Toro's been trying though and, while it may seem that Hellboy 2 was going to show up around the same time as the next Duke Nukem game, filming is supposed to start this Friday in Budapest.
With the beginning of filming so close, del Toro recently made an announcement to fans on www.deltorofilms.com about what they can expect in the way of a cast for the film. The main members of the cast, Ron Perlman and Selma Blair, have been known for a while now. But what about the other members of the cast and characters from the previous movie?
Well, the most exciting news is that John Hurt will be back for a brief cameo, reprising his role as Trevor Bruttenholm, the professor who raised and named Hellboy. Fan favorite character Abe Sapien will be back, played by Doug Jones in both body and voice this time (last time the vocal work was performed by David Hyde Pierce), satisfying the actor's rapidly developing following. Jones will also perform three other characters, including a female character called "the angel of death". Brian Steele, who played Samael in the first film, is doing similar multiple role duty.
Who won't be back? Well, it appears Universal hasn't approved a cameo for the character of Kroenen – at least not yet, so the planned epilogue with the character is on hold. FBI Agent John Myers will not be returning either, due to actor Rupert Evans current run in London in Kiss of the Spider Woman.
Several new characters were also announced. Although little light was shed on exactly who they are, Guillermo del Toro did state the names came from the Tuatha De Denann mythos, although the function of the characters won't be the same. Prince Nuada is the primary villain for the film, described as "a ruthless leader who treads the world above and the one below, defying his bloodline to awaken an unstoppable army of creatures." He will be played by Luke Goss. The villain's sister, Princess Nuala has been cast as Anna Walton and is described as a potential love interest for Abe. King Balor, presumably the father of the two will be played by Roy Dotrice.
Despite how difficult it has been to get this sequel off the ground, del Toro and company are already looking at setting up a third chapter with the character of Johann, who will be played by John Alexander (body) and Tomas Kretschmann (voice). Johann is another member of Hellboy's Bureau for Paranormal Research and Defense and appears as a disembodied ectoplasmic spirit in a containment suit. The information on www.deltorofilms.com specifically says Kretschmann won't appear as Johann, only providing the voice, as Johann's past is being saved for a potential third movie.
Whew… that's a lot of new information at one time. For fans who know and love the character of Hellboy, a lot more of this probably has meaning. For someone only vaguely familiar with the character (such as myself) this is a lot to digest at one time. Still, I wish del Toro the best. I enjoyed Hellboy and can't wait to see what else they can do with the character.
Your Daily Blend of Entertainment News