Deadpool Will Be Ryan Reynolds' Last Superhero Role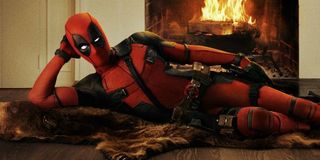 Ryan Reynolds has played a lot of superheroes for one actor: Green Lantern in the DC flop, Hannibal King in Blade: Trinity, and Deadpool in X-Men Origins: Wolverine. The actor will reprise Wade Wilson in the upcoming solo film for 20th Century Fox, and according to him, there are no more superhero roles awaiting him in the future.
Prior to his arrival at San Diego Comic-Con this week, Reynolds hit up HuffPost Live to promote another little movie of his that is not Deadpool. You just can't talk about Self/Less without squeezing in at least one question about the merc with the mouth. If you were somehow holding out hope that the man behind the katana blades would be adding yet another superhero role to his roster, we have some bad news for you. Said Reynolds,
Superhero movies are pretty major commitments. Nowadays it often entails signing on for multiple films that may or may not happen; the future box office numbers are the ultimate decider. Plus, Deadpool is already such an iconic character in the Marvel comics canon that it'd be hard to imagine Reynolds suiting up as anyone else after this. He won't need to, either, because even though Deadpool hasn't hit theaters yet, there is already so many intriguing tidbits working in its favor. Reynolds and Tim Miller have been working tirelessly for years convincing Fox to do the movie, and now that the studio is backing Deadpool the pair will be able to see their vision to the end with a hard R rating.
But that's not to say that Reynolds won't show up again as the katana-wielding badass. He told HuffPost that he hopes of making a sequel to Deadpool, but that would ultimately depend on if the fans back the first film, which drops on February 12, 2016. Based on a common sense level, we know that Hugh Jackman will be hanging up his adamantium claws after the third Wolverine movie, while in the same turn Jennifer Lawrence is getting tired of playing Mystique. That means the X-Men franchise needs more star power. With Reynolds as Deadpool and Channing Tatum as Gambit, these two heavyweights could easily carry the weight of the films on their shoulders.
On July 11, Reynolds will join his fellow Deadpool cast members Morena Baccarin (Copycat), Brianna Hildebrand (Negasonic Teenage Warhead), TJ Miller (Weasel), Gina Carano (Angel Dust) and Ed Skrein (Ajax) at Comic-Con to promote the film, which tells how Wade Wilson became the psychologically f-ed up mutant. Check back later in the week for the latest updates direct from the Con.
Your Daily Blend of Entertainment News