Joss Whedon Directing The Avengers: Infinity War? Here's What He Said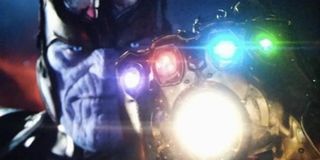 It's hard to imagine Marvel's announced, two-part The Avengers: Infinity War without Joss Whedon. He not only created the biggest, baddest superhero team-up movie so far, but he also helped shape the other standalone movies in the Marvel Cinematic Universe to better set up the larger films down the road. It'd be a shame to see him drop out before seeing the fruits of his labor with the big battle against Thanos, but it seems like Avengers: Age of Ultron will be the last one he tackles.
In an interview with Empire (as quoted by Comic Book Movie), Whedon addressed his potential return for Avengers: Infinity War and threw cold water on the notion. He said:
However, all hope is not lost, as he does go on to say that he wants to remain a part of the MCU in some capacity.
Whedon's statement aligns with reports that Captain America: The Winter Soldier co-directors Joe and Anthony Russo will direct the two-part Avengers: Infinity War. By that time, they'll have been fully immersed in the overarching story line with the third Captain America movie, subtitled Civil War. In bringing one of the most famous recent comic book arcs to life on the screen, fans will see Tony Stark (Robert Downey Jr.) and Steve Rogers (Chris Evans) go head to head over a new piece of legislation that says all super-powered beings must register with the government and report to S.H.I.E.L.D. We've already previewed a little bit of their animosity in a clip from Age of Ultron, but more telling than that is Anthony Mackie's nickname for the film: "Avengers 3.8."
While the details on Avengers: Infinity War - Part 1 and Part 2 aren't known, it's more than safe to say we'll finally be seeing Josh Brolin's Thanos forming the Infinity Gauntlet. In addition to those Infinity Stones we've been seeing in Captain America (the Tesseract), The Avengers (the stone in Loki's scepter), Thor: The Dark World (the Aether) and Guardians of the Galaxy (the orb), we assume there are two more that have yet to be introduced. (There are six total in the comics.) With Chadwick Boseman's Black Panther teased in Age of Ultron before making his debut in Cap 3 and a standalone movie, perhaps he'll encounter one. Though, there's also Benedict Cumberbatch's Doctor Strange and the still un-cast Captain Marvel at play. If the current reports are to be believed, the Avengers' line-up is going through a major restructuring before the Infinity War, and these three superheroes will have their own parts to play. But will Joss Whedon? It doesn't sound like it.
Your Daily Blend of Entertainment News