The Horror Genre Might Get Its Own Expendables-Type Movie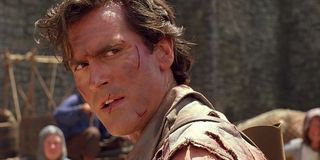 With The Expendables franchise, Sylvester Stallone certainly hit on an intriguing concept: throw a bunch of aging action heroes into a movie together and let them do what they do best, kick ass. Since the first movie hit in 2010, there's been talk of damn near every genre getting its own Expendables-style offering, mashing icons together, and Bruce Campbell still has eyes on making this happen for horror.
Campbell first mentioned the notion of a horror Expendables, which would bring together all manner of genre legends to go after a single foe, back in 2010, and while his idea is still a ways off, it's very much in play. Talking to Movieweb, the Evil Dead star said:
The subject came up again when Campbell was asked about the prospects of Bruce Vs. Frankenstein, a long gestating sequel to his 2008 horror comedy My Name is Bruce, which sees him play a version of himself tasked with battling an ancient Chinese god of the dead. It sounds like the script, which has had problems in the past (he once said it "sucked"), is coming together, and taking a different turn as Campbell finds places for his fellow genre compatriots.
Initially, it was Campbell's commitment to the USA series Burn Notice that kept this on the back burner. With the first season of the Evil Dead series, Ash Vs. Evil Dead, gearing up for production, it doesn't sound like this is likely to happen anytime soon. That show will film 10 half-hour episodes later this year in New Zealand, before airing on Starz, and will likely take up a fair amount of the 56-year-old actor's time for the foreseeable future.
In reality, this isn't a terribly pressing concern for me. I'm much more interested in Ash Vs. Evil Dead than whatever tag team Campbell may have cooking. As incredible an idea as The Expendables is—it's like 11-year-old me's wildest dream come true—it's been better as a concept than as executed in real life. That's not stopping them from continuing down this path, though, as Stallone is developing an Expendables TV show.
And horror has never been shy about teaming up. From the 1940s to now, with titles like Frankenstein Meets the Wolf Man to King Kong vs. Godzilla to Freddy vs. Jason, the genre is full of franchises crossing over and various fiends coming together, teaming up, and clashing. All you need to do is look at one of Rob Zombie's films, which sometimes play out like a who's who of actors from his favorite horror and exploitation films.
Are you looking forward to seeing a bunch of horror icons gathered together on the big screen? Or have we had enough talk of The Expendables of Blank and it's time to let the dream die?
Your Daily Blend of Entertainment News
Thank you for signing up to CinemaBlend. You will receive a verification email shortly.
There was a problem. Please refresh the page and try again.