Channing Tatum, Zoe Saldana And Many More Join Guillermo Del Toro Produced Cartoon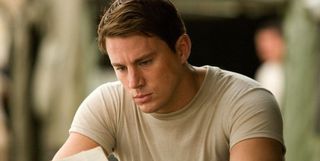 Aside from directing visually striking adventure movies like Hellboy, Pan's Labyrinth and Pacific Rim, Mexican director Guillermo del Toro has also developed a reputation in animation as a producer. Having worked on Kung Fu Panda 2, Puss in Boots and Legends of the Guardians, del Toro is gathering together a star-studded voice cast for his newest animated endeavor Book of Life.
THR reports Channing Tatum, Zoe Saldana, Diego Luna and Christina Applegate have signed on to topline the film, while Ice Cube, Ron Perlman, Cheech Marin, and Danny Trejo will co-star along with Kate del Castillo (Under the Same Moon, Hector Elizondo (Last Man Standing, opera singer Placido Domingo, Ana de la Reguera (Nacho Libre), Eugenio Derbez (Instructions Not Included), stand-up comedian Gabriel Iglesias, and radio personality Ricardo "El Mandril" Sanchez.
You may have noticed much of this cast is made up of Hispanic performers, which is a savvy move from the film's producers as Spanish-speaking audiences are proving an incredible force at the box office. This demographic's massive turnout for the Paranormal Activity spurred Paramount Pictures to create a spin-off made specifically for this audience. And more recently, the release of Derbez's Instructions Not Included stunned box office watchers by snagging the #5 spot opening weekend, besting Elysium, The Mortal Instruments: City of Bones, and Percy Jackson: Sea of Monsters, all of which were in more than 2,300 theaters while Instructions Not Included was showing in just 347. Considering this, Derbez casting in Book of Life is no surprise.
Jorge R. Gutierrez and Doug Langdale wrote Book of Life, and the former will also direct. The pair previous collaborated on the 2007 cartoon series El Tigre: The Adventures of Manny Rivera, on which Langdale was head writer and Gutierrez was co-creator alongside his wife Sandra Equihua. "We wanted to make a beautiful, funny, action-packed cartoon," Gutierrez said of the kids cartoon that centered on a young boy pressured to follow in his father's footsteps as a superhero, or take after his grandfather and become a supervillain. In case you're unfamiliar with this short-lived series, check out a trailer for it below:
It seems Book of Life will follow similar themes of Gutierrez's high-energy kid show. The synopsis released to THR reads:
At present, it's unclear whether Tatum or Luna will voice Manolo. However, we do know 20th Century Fox Animation is producing the picture in conjunction with Reel FX Animation and promises a "unique visual style" to be on display in Book of Life along with popular pop songs that will be given new takes courtesy of Brokeback Mountain composer Gustavo Santaolalla.
Book of Life is now in production, and is slated to hit theaters on October 17th, 2014.
Your Daily Blend of Entertainment News
Staff writer at CinemaBlend.
Your Daily Blend of Entertainment News
Thank you for signing up to CinemaBlend. You will receive a verification email shortly.
There was a problem. Please refresh the page and try again.