How Ant-Man's Post-Credits Scene Connects To Captain America: Civil War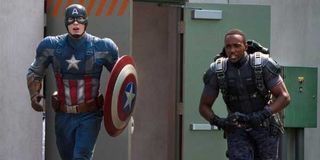 SPOILER WARNING: The following article contains spoilers for Peyton Reed's Ant-Man. If you haven't seen the film yet, and don't wish for elements to be ruined, please click away to another one of our fantastic articles!
Of all the great post-credits sequences that Marvel Studios has put together so far, the second of two featured in Peyton Reed's Ant-Man is definitely one of the most intriguing. Dimly lit and set in a dark basement, the scene finds both Captain America (Chris Evans) and Falcon (Anthony Mackie) having a serious discussion… with Bucky Barnes (Sebastian Stan) trapped with them courtesy of a vice clamping down on his metal arm. Like many of you, after watching this interesting moment I immediately found myself wondering how it would wind up tying into the events of Joe and Anthony Russo's upcoming Captain America: Civil War. Fortunately, the day after my screening I had the chance to ask that key question to the keeper of all of Marvel Studios secrets, Kevin Feige, and he explained that the scene is a very early peek into a scene from the 2016 movie.
Diving into some spoiler territory during my interview with the Marvel Studios President, I asked Feige how the latest post-credits scene from the company fit into the larger timeline of the ever-growing Marvel Cinematic Universe. While he couldn't give me a specific answer, he did say that the clip is an actual moment that we will get to see in Captain America: Civil War. Said the executive/producer,
While it's a bit hard to tell what's going on in the scene without a little more context, what is immediately clear is that Captain America and Falcon have managed to track down the former Winter Solider, and have been keeping him captive. The two superheroes discuss the idea that what they are doing would have been easier a week ago, and while they would like the chance to reach out to Tony Stark (Robert Downey Jr.) for help, the unfortunate truth is that something called "The Accords" (perhaps the cinematic version of the Superhero Registration Act?) wouldn't actually allow the genius/billionaire/playboy/philanthropist assist anyway. Cap says that they are going to have to go it alone, but it's at this point that Falcon perks up and says, "I know a guy."
Given that this scene takes place and the end of Ant-Man, and the events that went down between Falcon and the diminutive hero in the new movie, it's a safe assumption that Paul Rudd's Scott Lang is the hero that the winged sidekick plans to call for help. If that's the case, however, that could mean that there is an interesting timeline overlap that occurs between the two movies. We won't be able to say for certain until Captain America: Civil War is released, but it seems like at least the second half of Ant-Man is playing out during the early events of next year's May release. This wouldn't be entirely new territory for Marvel Studios, as there is also some overlap between Jon Favreau's Iron Man 2, Louis Leterrier's The Incredible Hulk, and Kenneth Branagh's Thor, but it's still a special narrative trick for the studio to pull off.
What did you think of this post-credits scene in Ant-Man hit the comments below, and stay tuned for much more of our coverage of the film!
Your Daily Blend of Entertainment News
Assistant Managing Editor
NJ native who calls LA home and lives in a Dreamatorium. A decade-plus CinemaBlend veteran who is endlessly enthusiastic about the career he's dreamt of since seventh grade.