How Avengers 2 Transformed JARVIS Into The Vision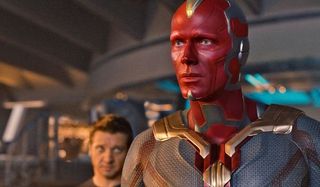 Before Age of Ultron, Paul Bettany was "annexed" to the recording studio, where he would lend his voice to J.A.R.V.I.S. after principal photography on the current Marvel movie had been completed. With Age of Ultron came a new role for the actor, who transcended his computerized self and became the Vision. A new behind-the-scenes featurette from the Avengers 2 home release shed light on the creation of the beloved character. Watch it below.
As you can see from the footage, a lot of practical effects and motion capture technology went into bringing the Vision to life. The beginning of the video kicks off with director Joss Whedon recounting how the concept for the Vision came to be. Based on his own admission, it seems like the plan for the Avengers sequel was always to feature Bettany's ascension.
Of course, there was also plenty of CG in the film, but many times Bettany was suited up in prosthetics and hoisted above his Marvel co-stars with wires. You can also see him bedecked with the motion-capture dots in the scene of his birth in which he emerges from Dr. Cho's healing chamber. The great Andy Serkis, who's been the champion of this technology with his roles in The Hobbit/The Lord of the Rings and the Planet of the Apes prequels, enlisted his aide for the movie. In addition to playing the role of Ulysses Klaw (spelled Klaue in the film), he also helped out with the motion capture for Hulk, though it's unspecified how involved he was with Vision's look.
Elsewhere, a previously released video from the Age of Ultron home release showcased a time-lapse of Bettany's hour-and-a-half-long makeup and prosthetics process. He said he was surprised by how relatively quick it was to get into character, considering all the various parts that go into making this look. Watch the video below.
Though we also see some concept art for the character in the video, concept artist Andy Park revealed an example of one of the earlier Vision conceptions. As the lead concept artist for Marvel Studios, he's worked on everything from the first Avengers movie to the most recent installment, Ant-Man. Check out what Vision could have looked like if Marvel had decided on this rendering.
The Avengers: Age of Ultron will hit 3D Digital and Digital HD on September 8, and 3D Blu-ray, Blu-ray, DVD, Digital SD, and VOD on October 2. Meanwhile, Vision will return in Captain America: Civil War on May 6, 2016.
Your Daily Blend of Entertainment News
Thank you for signing up to CinemaBlend. You will receive a verification email shortly.
There was a problem. Please refresh the page and try again.