How Cyclops And Jean Grey's Relationship Will Start In X-Men: Apocalypse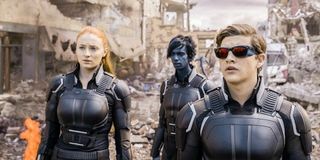 One of the most interesting aspects of X-Men: Apocalypse is going to be watching a new group of actors playing younger incarnations of characters that we previously fell in love with. Arguably the biggest responsibility is on the shoulders of Tye Sheridan and Sophie Turner, who are the new Cyclops and Jean Grey, respectively. And we've now learned how the pair's romance and connection originally blossoms, courtesy of director Bryan Singer.
Bryan Singer, who with Apocalypse is overseeing his fourth X-Men film, detailed the origins of Cyclops and Jean Grey's relationship while talking to Entertainment Weekly. The filmmaker insisted that their love grows because they both feel like outsiders, even amongst their fellow X-Men.
Obviously, Sophie Turner and Tye Sheridan are stepping into very big shoes with their work on X-Men. Cylcops and Jean Grey were previously portrayed by Famke Janssen and James Marsden in X-Men, X-2 and X-Men: The Last Stand (well, Janssen anyway), while they also both managed cameos appearances in X-Men: Days Of Future Past, too.
Fans were quite smitten with the duo's work as the couple, but in the shape of Sophie Turner and Tye Sheridan, the franchise now has two of the most promising young actors in Hollywood. 20-year-old Sophie Turner has been wowing Game Of Thrones fans for five, soon to be six, seasons now, while 19-year-old Tye Sheridan has already built a stunning CV that has seen him work with Terrence Malick on The Tree Of Life, Jeff Nichols on Mud, and opposite Nicolas Cage in Joe.
We'll get to see if they can transfer their obvious talent to the X-Men franchise and compliment Famke Janssen and James Marsden's previous work when X-Men: Apocalypse is released on May 27.
Your Daily Blend of Entertainment News
Thank you for signing up to CinemaBlend. You will receive a verification email shortly.
There was a problem. Please refresh the page and try again.