How Dakota Johnson Feels About Losing Fifty Shades Of Grey's Director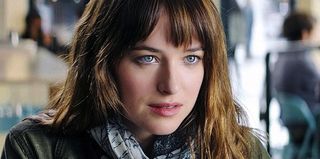 Though the first film made $569 million worldwide and has a ready-made sequel waiting, Fifty Shades Darker, the follow up to Fifty Shades of Grey, has been slow to get off the starting blocks. A big part of this is that they had to replace director Sam Taylor-Johnson, which they recently did with James Foley, and star Dakota Johnson has some definite feelings on the matter.
Talking about Fifty Shades Darker, the 25-year-old daughter of Melanie Griffith and Don Johnson told Empire that she experienced a range of emotions during the search for a new director, but everything has worked out for the best. She said:
Johnson also said that she has met with Foley, though she neglected to elaborate on what they discussed about his approach. Though he has recently worked more in television, helming episodes of Wayward Pines, Hannibal, and House of Cards, Foley has a long history in film as well, including such varied titles as Madonna's Who's That Girl?, At Close Range, and Glengary Glen Ross.
Even though there is a director in place, which is a big piece of the puzzle, Fifty Shades Darker still has plenty of other issues to deal with before it can continue the saga of Anastasia Steele (Johnson) and her bondage-heavy relationship with millionaire S&M enthusiast Christian Grey (Jamie Dornan).
One of the problems Taylor-Johnson had was the constant clashing with Fifty Shades author E.L. James, who reportedly insisted on steering the direction of the movie. With Niall Leonard, James' husband, on board to handle the script for Darker, hopefully for everyone involved that will be less of a difficulty. And in taking the job, Foley probably knew what is in store for him, so it shouldn't be a surprise.
Then there is also the reportedly tenuous relationship between the two stars. When the movie came out there were tons of rumors that Dakota Johnson and Jamie Dornan didn't get along during production, which is going to be a problem when you have to hang out naked on set with someone so often. For their part, they've said there is no animosity, but it will still be something to keep an eye on as the franchise moves forward.
Johnson is currently pumping the Johnny Depp-starring Black Mass, as well as the mystery drama A Bigger Splash, at the Venice Film Festival, but Fifty Shades Darker is in the pipe. The film in set for release on February 10, 2017, while the final chapter, Fifty Shades Freed, will likely open February 9, 2018.
Your Daily Blend of Entertainment News
Thank you for signing up to CinemaBlend. You will receive a verification email shortly.
There was a problem. Please refresh the page and try again.