Why Movies Need More Penises, According To Kevin Bacon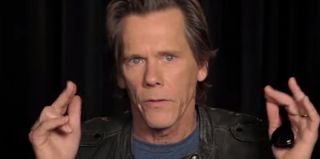 Kevin Bacon has something he wants to show you, and it's his wiener. The Footloose star has never been shy about baring it all in a movie (Wild Things anyone?), and he recently appeared in a hilarious video that not only spoofs Hollywood's notorious double standard when it comes to on-screen nudity, but it also makes you think that maybe Kevin Bacon just likes to whip it out.
There are some truly great moments in this mock PSA from Mashable that decries gratuitous female nudity in film, not because it's sexist, but because dudes want to walk around naked, too. Bacon even volunteers to spearhead this male nudity movement and has some ideas for roles he'd like to play. For instance, to the producers of HBO's Game of Thrones he says:
Or for Fifty Shades of Grey he offers:
Given the rocky relationship between star Jamie Dornan and the production, they might want to consider that move for Fifty Shades Darker. And it isn't just shows and franchises that are already partial to making their actors roam around the screen buck-ass nude, he has a pitch for Marvel's normally nudity-free superhero universe as well. He says:
And there's so, so much more crammed into two-and-a-half minutes. You should really just go ahead and watch the whole video; It's not only well worth you time, it will very likely be the best thing you watch all day long.
We'll get the opportunity to check out Kevin Bacon on screen, fully clothed from what I understand, when Cop Car—which also comes from Jon Watts, who was recently hired to direct Marvel's upcoming Spider-Man reboot—hits theaters on August 14. He can also be seen later this year in the Johnny Depp-starring Black Mass, about notorious Boston gangster Whitey Bulger, and he has 6 Miranda Drive, a horror thriller from Wolf Creek mastermind Greg McLean, in the can for 2016. We'll have to wait to see how naked or not he gets in all of these movies.
Your Daily Blend of Entertainment News
Thank you for signing up to CinemaBlend. You will receive a verification email shortly.
There was a problem. Please refresh the page and try again.