How Elizabeth Berkley Actually Feels About Showgirls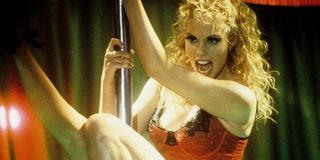 Elizabeth Berkley has a love-hate relationship with Showgirls. Yes, the film about an exotic dancer dreaming of making it big as a Vegas showgirl made her the cult icon she is today, but the harsh criticism at the time of its release in 1995 was difficult to bear. The actress spoke about the experience and her mixed feelings on a number of occasions. But during a special screening of the film, now 20 years later, she told fans that she's come to embrace her time with Showgirls.
TooFab posted a video of Berkely taking the stage at an anniversary screening in Los Angeles, attended by fans galore. As she told those in the crowd, it's these fans who made Showgirls the cult hit it is today and taught her how to love it, too.
Later on, she told the audience that she does, in fact, love this film. However, this comes towards the end of an emotional journey for the actress. She told Variety in an interview from 2013 that it was humiliating to see her performance bashed so publicly and so harshly. Although, even then, she chalks it up to the fact that the film's substance was too edgy for the audiences of the time. Whereas nowadays, as she mentioned during the screening event, there are a lot more provocative risks being taken in the pursuit of creativity. (Can you imagine if something like Nymphomaniac was released just a decade or two ago? Critics would have been like, "Berkley who?") Watch the full video of her speech below.
As EW notes, Berkley discussed the events with Ellen DeGeneres on her daytime talk show and called the criticisms "cruel." She also wrote a book called Ask Elizabeth, which isn't a tell-all about her time in the spotlight, but more of a diary-style memoir to help young girls get through the tough times of high school and adolescence.
Your Daily Blend of Entertainment News