The Moment In Showgirls Elizabeth Berkley Still Loves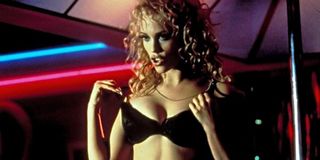 Showgirls is one of the most well-known movies of all time. It was also Elizabeth Berkley's biggest flop, but that doesn't mean it doesn't have an army of cult fans who appreciate the flick and its campiness. Berkley realizes this wasn't the most impressive performance of her career, and she looks back on the film with mixed emotions. But there is one scene she still loves.
Berkley went on Instagram to reveal her favorite moment from Showgirls. It's not any of the crazy dance scenes, it's not her audition in front of that "prick" Tony Moss, it's not her Skinemax-style sex scene with Kyle MacLachlan. It's the moment when Nomi is watching Crystal performing on stage.
As Berkley writes, this scene happened when director Paul Verhoeven kept the cameras rolling as she watched Crystal perform on stage. This, she described, was an authentic moment when she was thinking of her own desires to become a performer, and in turn it capture Nomi's longing. "…it was a tiny moment in a scene where I wasn't being pupeteered," she wrote in part. She also referred to her character's overall campiness as being "extreme and cartoon-ish," which she also claims was the result of "exact direction."
Though Berkley ended her Instagram post by writing, "Tho I do love, and am grateful you guys love the camp of it all," she was devastated by the film right after it premiered. Critics skewered the NC-17 film and it caused her to retire from performing for a while. As she told Variety during an interview in 2013, it was humiliating to see a performance of hers be bashed so harshly.
Berkley has since been making a career overall with her appearances on Dancing with the Stars (where she paid tribute to a classic Saved By the Bell scene) and CSI: Miami, but Showgirls will forever hold a place in her heart...for better or worse.
This year marks the 20th anniversary of Showgirls, which debuted on September 22, 1995. As Berkley said of the experience and the film's cult following, it was a different time back then and audiences didn't know how to handle the film. But times have changed. We'll no doubt hear more from the original cast members, hopefully including MacLachlan and Gina Gershon, as we get closer to the celebratory date.
Your Daily Blend of Entertainment News
Your Daily Blend of Entertainment News
Thank you for signing up to CinemaBlend. You will receive a verification email shortly.
There was a problem. Please refresh the page and try again.