How Finnick Drastically Changes From The Hunger Games: Catching Fire To Mockingjay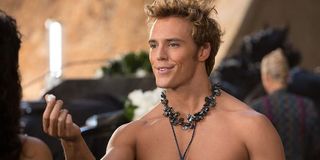 In The Hunger Games: Catching Fire, British heartthrob Sam Claflin won our hearts as the sexy, smirking and surprisingly noble Finnick Odair. But reprising his role in The Hunger Games: Mockingjay - Part 1, Claflin offers us a very different Finnick from the character's first frames.
Minor spoilers for The Hunger Games: Mockingjay - Part 1 lie ahead:
By the start of this third Hunger Games installment, Finnick has twice survived the deadly games put on by the Capitol to keep the Districts in line. For the first time since his reaping, he's out of the spotlight of President Snow, and it makes for a character that Sam Claflin compares to Marilyn Monroe.
In our exclusive interview, Sam Claflin said of Finnick:
Seeing the real side of Finnick includes a devastating monologue that fans of the book remember well. But protective of those who haven't, Sam Claflin was initially vague in his discussion of this big scene, making the following spoiler-free. In the sequence, Finnick is essentially telling all of Panem what he knows about The Capitol. Claflin recalls of shooting this scene:
We'll get more into this scene, and a Finnick scene Hunger Games fanatics will miss next week. To learn what Game of Thrones roles Claflin was once considered for, click here.
To discover what Jeffrey Wright had to say about his The Hunger Games: Mockingjay - Part 1 character, Beetee "Volts" Latier, click to page two.
In The Hunger Games: Mockingjay - Part 1, acclaimed character actor Jeffrey Wright returns as Beetee, the top-notch electrical engineer out of District 3. A Quarter Quell survivor turned rebel, Beetee is now his own worst enemy, trying to hack the security tech he created for the Capitol. When I spoke with him, Wright had this to say about his character's emerging backstory:
But when it comes to the Capitol, Beetee is resolute in his conviction. Asked what the defining characteristic of his character was, Jeffrey Wright responded:
For Jeffrey Wright's thoughts on his late co-star Philip Seymour Hoffman, click here.
The Hunger Games: Mockingjay - Part 1 opens everywhere Friday.
Staff writer at CinemaBlend.
Your Daily Blend of Entertainment News
Thank you for signing up to CinemaBlend. You will receive a verification email shortly.
There was a problem. Please refresh the page and try again.