How Guardians Of The Galaxy Helped Vin Diesel Mourn Paul Walker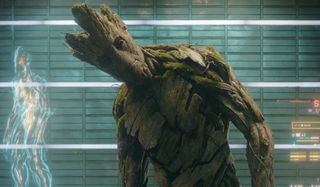 The months following Paul Walker's tragic death back in 2013 were naturally very difficult for Vin Diesel, due to the relationship he developed with his Fast & Furious co-star on and off set over the years. In dealing with the pain and anguish felt after Walker's passing, Diesel recently shared a few words about how his work on James Gunn's Guardians of the Galaxy helped him mourn his good friend in the face of such extraordinary grief.
Anyone who's seen Guardians of the Galaxy would probably agree Groot has a somewhat soothing and calming effect on the moods and minds of moviegoers. That's why it doesn't come as too much of a surprise to learn Vin Diesel found solace in embodying the character in the aftermath of Paul Walker's death. Here's what the actor had to say in an interview with Variety about his voicing the sentient tree being:
This isn't the first time Diesel has spoken about Groot's healing powers, however, as the actor not long ago shared similar details in a Guardians Q&A on Facebook, in which he said playing the now-iconic GOTG character provided for good therapy. He went on to explain how it was challenging due to the fact it was the month after the accident with Paul Walker and, subsequently, the first time he had worked since. Diesel referred to Groot's innocence as refreshing saying "it may have been more challenging under other circumstances, but at that time, it was very therapeutic."
Groot has had a pretty big impact on viewers ever since his onscreen appearance in GOTG, something not so shocking to hear after reading James Gunn detail the lengths to which Vin Diesel went to embody the character. The director says for every "I Am Groot" viewers hear in the movie, Diesel said it "at least 500 times" and did so in all the different languages. Gunn, who at one time temporarily voiced the peaceful tree-like creature, said it was when Diesel took on the voice that the "character suddenly became real and most people's favorite character."
Walker and Diesel can next be seen in the upcoming F&F installment Furious 7. Walker was tragically killed midway through the filming of the highly-anticipated sequel, prompting filmmakers to fill out the actor's scenes using his brothers as stand-ins, as well as costly CGI effects. The action thriller hits theaters April 3.
Your Daily Blend of Entertainment News
Your Daily Blend of Entertainment News
Thank you for signing up to CinemaBlend. You will receive a verification email shortly.
There was a problem. Please refresh the page and try again.