How Harley Quinn Will Directly Relate Back To The Comics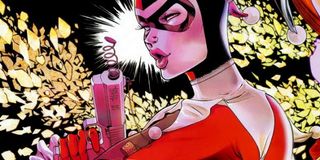 There's been a grand to-do made over Margot Robbie's casting as Harley Quinn in the Suicide Squad movie. Since this'll be the first time the character will appear on the big screen and in live action, fans have been wondering how Warner Bros. and director David Ayer will choose to adapt the Joker's psychotic sidekick. Fortunately for all of you who love spoilers, some new details have dropped online that reveal how Robbie's Harley Quinn will give nods to her comic book and animated series iterations.
Reporter El Mayimbe dropped the details on his Instagram account before publishing a post on Latino Review. According to him, Harley Quinn will go through a series of costume changes throughout the film, going from her traditional costume from the animated series to wearing a dress in a later club scene. More intriguing, though, is a couple of laughing stalks who'll be popping up alongside her as "a big motif" -- Joker's pet hyenas. Although, given the film hasn't yet entered production, details could change. Still, this is the latest report making the rounds.
The Joker and Harley Quinn adopted Bud and Lou as their rabid pets. While Quinn typically referred to them as her "babies" throughout the Batman comics and series, they were named after comedians Abbott and Costello. The two appeared in the comic book Batman Adventures: Mad Love, and later on in the TV runs of Batman: The Animated Series and The Batman, and in various other comics. Gamers will also remember them on display in the Penguin's museum in Batman: Arkham City. Hyenas are the perfect animal accessories for someone as sadistic as Joker or Harley Quinn; they flaunt a maniacal laugh that sends shivers down your spine, and they'll tear you to pieces if you're not careful. One of my favorite moments from these two is when Quinn takes them shopping with her in the episode "Harley's Holiday" of Batman: The Animated Series.
Margot Robbie briefly spoke about playing Quinn to MTV at this year's Sundance Film Festival, expressing the intimidation she feels in playing a character that comes with such a large fan base. Though, she's up for the challenge. At the time she said she hadn't gotten into the nitty gritty details of it all, as she's filming a movie before Suicide Squad. But she imagines her accent won't be as severe as her Wolf of Wall Street timbre. In addition, Ayer teased on Twitter that Quinn's "madness defines her."
We've already seen Jared Leto lose his Jesus locks in favor of a short, bleach-blonde haircut to play the Joker. It's very Karl-Lagerfeld-gets-committed. Hopefully we'll see something from Margot Robbie's upcoming looks in the near future. Though, Suicide Squad doesn't hit theaters until August 5, 2016.
Your Daily Blend of Entertainment News