How Harvey Weinstein Really Feels About Opening The Hateful Eight Against Star Wars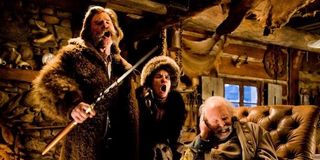 If you've been paying any sort of attention at all, you're well aware that Star Wars: The Force Awakens is a box office juggernaut. It took 16 days to hit the $700 million mark domestically, a number that took Avatar, the highest grossing movie ever, 72 days to achieve. That's a long way of saying it's decimating the competition in theaters, including Quentin Tarantino's The Hateful Eight, and distributor Harvey Weinstein thinks maybe they made a mistake opening against one of the most anticipated movies of all time.
Thus far, Quentin Tarantino's latest stab at the western, the three-hour-long The Hateful Eight, has done solid box office business. Talking to Variety, however, Harvey Weinstein, who has been behind every one of the director's previous films, said he thinks it would have been bigger in a different release slot, adding:
With more than $1.5 billion worldwide, Star Wars: The Force Awakens has done nothing but demolish records since it was released on December 18, including biggest opening weekend, the fastest movie ever to hit $100 million, $200 million, and so on up the line. No one expected The Hateful Eight, or any other movie for that matter, to put up much of a fight, but it certainly sounds like Weinstein hoped for a better showing.
The Hateful Eight began its run on Christmas Day in a limited number of theaters, around 100 that screened the film on 70mm film, the widest release in that format in years, and performed well. This past weekend it finally expanded to more than 2000 theaters, and in a shorter, digital format, bringing in $16.2 million.
Though that's a decent number, it's below the estimated $20 million some experts put out there, and it ranks near the bottom for Quentin Tarantino openings, only beating out Jackie Brown's $9.3 million debut. For context, Kill Bill Vol. 1 and Vol. 2 opened at $22.1 and $25.1, respectively, while Inglorious Basterds hit $38 million. None of those films, however, faced such stiff box office competition.
Harvey Weinstein believes the gross would have been at least double without Star Wars monopolizing all of the screens (it is still showing on more than 4000), and Quentin Tarantino has said that Disney was trying to "fuck him." Still, Weinstein expects The Hateful Eight to have some endurance. Hyper-violent, three-hours-long, and taking place largely in a single location, this was never a movie that was going to have across-the-board appeal, but largely positive reviews and Tarantino's devoted fan base—along with a relatively modest budget of around $40 million—should even things out a bit.
The Hateful Eight and Star Wars: The Force Awakens are both in theaters now.
Your Daily Blend of Entertainment News
Thank you for signing up to CinemaBlend. You will receive a verification email shortly.
There was a problem. Please refresh the page and try again.