How Ja Rule Blew His Future With The Fast And Furious Franchise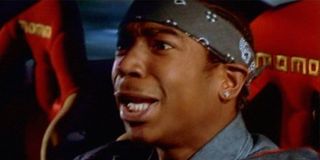 Rapper and actor Ja Rule may have it pretty good, but he reportedly could have had it a whole lot better. We've just learned the depressing news of how The Fast and the Furious co-star missed out on one of the more lucrative film franchises in recent memory after his appearance in the original film.
In a very interesting interview in Grantland, 2 Fast 2 Furious director John Singleton details how Ja Rule went from playing a bit part by the name of Edwin in the stunt-heavy franchise's first installment for a measly few thousand dollars to turning down $500,000 to star in its sequel. Here's what Singleton had to say about it:
With hindsight being 20/20, it's clear Ja Rule probably made the wrong call walking away from the role. According to the interview, the rapper wasn't interested because it wasn't the type of material he was looking to do with respect to his Hollywood career. He went on to say that it wasn't the right move for him, explaining how at that time he was "trying to do this acting thing very seriously." I guess his F&F character Edwin, who came out a loser in more than a couple ways after the original film's big race, wasn't "serious" enough.
Needless to say, if anyone came out a big winner it's certainly Ludacris—who's since co-starred as Tej in a handful of the franchise's installments (need we remind this is one of the top 20 highest-grossing franchises of all time). Singleton went on to call Luda "humble" and to detail the rapper/actor's excitement at the prospect of joining 2 Fast 2 Furious, calling the rest history. So quite literally, Ja Rule choosing not to do Singleton's film changed Ludacris' life. Singleton doesn't seem to hold any grudges against Rule, explaining how the two joked about it years later. He went on to mention that Rule apologized for his bad decision and Singleton subsequently sounds like he still has hope for the rapper's potential return.
The latest installment Furious 7, which will likely break some records, is already doing well internationally.
Your Daily Blend of Entertainment News
Your Daily Blend of Entertainment News
Thank you for signing up to CinemaBlend. You will receive a verification email shortly.
There was a problem. Please refresh the page and try again.