Watch The Fast & Furious Crew As The Cast Of Bambi In Hilarious SNL Mock Trailer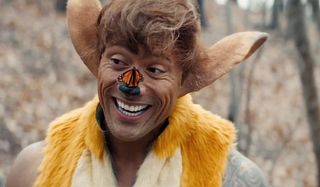 Dwayne Johnson brought his A-game last night for his hosting gig on NBC's Saturday Night Live. This was his fourth appearance as host and among the many skits, of which included a reprisal of his iconic The Rock Obama character, was this most hilarious new Disney movie trailer of a live-action remake of Bambi featuring the cast of Furious 7. Have a look below and get ready to laugh.
If you're anything like me, you found yourself laughing quite a bit throughout the ridiculous mock trailer above. Needless to say, Johnson as a live-action Bambi was hilarious in itself but his continuous terrible deer and wildlife puns took things to the next level. I don't know which was worse (or better for that matter), his saying the hunters are going to "pay dearly" or his referring to himself and the rest of his gang as "part of the game."
The Rock/Bambi's crew, featuring bit players Tyrese Gibson (Jay Pharoah) as Flower and Michelle Rodriguez (Cecily Strong) as Faline only served to fill out this hysterical skit with more laughs. However, it was when Johnson's Bambi attempts to learn the truth behind how Taran Killam's Vin Diesel/Thumper got his name that we get one of the short skit's funniest moments. "I'm always thumping."
Not only is Killam's Vin Diesel impression perfectly executed, The Rock delivers some of the skit's best comedic timing in his response to the mumbling growling Thumper. "Yeah, yeah, it's always something, huh?" The absurd makeup and prosthetic ears are the perfect additive for providing a visual laugh to contrast with the downplayed sarcasm throughout.
One of the skit's other more hilarious moments comes in the form of a butterfly, which lands on The Rock's painted nose, creating a moment of unity between himself and his fellow costumed friends.
As the runtime on the skit was drawing nearer to the end I did find myself asking "why no Ludacris?" at which point (like clockwork) Pharoah popped on the screen as the over-the-top rapper with a clip of his vid "Wham, Bam, Bambi." Too perfect!
The Rock definitely brought some laughs on last night's episode. Even when skits fell flat, like "Cooking With Paul," Johnson undoubtedly went "all in" and gave it his best—something any fan of live entertainment can appreciate.
Catch future episodes of Saturday Night Live on Saturday nights at 11:30 on NBC.
Your Daily Blend of Entertainment News
Thank you for signing up to CinemaBlend. You will receive a verification email shortly.
There was a problem. Please refresh the page and try again.