The One Thing Fast & Furious 7's Director Was Told He Had To Include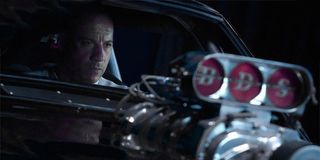 Furious 7 director James Wan undoubtedly knew a thing or two he'd be dealing with as far as crazy stuntwork while at the helm of the latest installment of the Fast and Furious franchise. However, it's likely he had no idea he'd be handling something as complicated as free-falling automobiles.
If you've seen any of the clips and/or trailers buzzing around the net and on television screens everywhere for the last couple of months, you've likely seen teases of Furious 7's above-mentioned vehicles in free-fall. The Saw director discussed how he learned of the inclusion of the skydiving cars sequence, which has since been referred to by many as nothing short of insane, in a recent interview with Vulture:
As ridiculous as the above statement sounds, I actually have no difficulty believing the conversation probably did go something like that. These films are known for taking things over-the-top, making an effort to push the envelope at least a few times throughout each installment so it's likely some action sequences are of top priority. Wan is a filmmaker who prides himself on his instantaneous thought when it comes to building out sets and scenes on the spot and took the above demand as a "blank slate to go and design the craziest action sequence" he could dream up. What he came up with is "cars jumping out of the back of the plane, hitting the mountains of Azerbaijan, and then assaulting a military motorcade." How's that for an answer?!
Wan also recently discussed some of the details on how he and his crew executed upon the incredibly high-octane parachuting cars sequence in a recent commentary with Yahoo! Movies. Check out the video below to watch the play by play of what the filmmaker calls one of the highlights of the film.
Fans of action movies can certainly see why Wan would call this a Furious 7 highlight and, from the looks of it, I think we can all agree he succeeded in making it look "scary and dangerous." In shooting the sequence three different ways — real cars being dropped out of planes, giant rigs with actors inside the vehicles and of course visual effects — it looks like they truly did a top-notch job to pull together a seamless action sequence that will certainly blow peoples' minds.
Already doing well in international markets, Furious 7, starring Vin Diesel, Paul Walker, Michelle Rodriguez, Dwayne Johnson, Tyrese Gibson, Jason Statham, Kurt Russell, Ludacris and more, is in theaters now.
Your Daily Blend of Entertainment News
Your Daily Blend of Entertainment News
Thank you for signing up to CinemaBlend. You will receive a verification email shortly.
There was a problem. Please refresh the page and try again.