How Kirsten Dunst Fought For Her Role In Midnight Special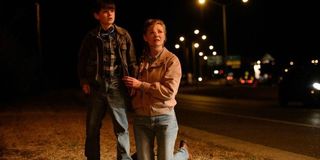 Kirsten Dunst was so enamored with Jeff Nichols' work as filmmaker that she actively pursued him in order to land her role in Midnight Special. However, rather than jumping at the chance to include the Spider-Man and Melancholia star in his film in any capacity, Nichols admitted that he took some convincing and the actress had to fight for her part.
Jeff Nichols made this revelation to me when we sat down to talk about Midnight Special last week, ahead of its release this Friday. For all her enthusiasm, the Mud and Take Shelter director couldn't quite picture Kirsten Dunst as Midnight Special's Sarah. But that all changed when Dunst put herself on tape. Nichols recalled:
While Kirsten Dunst failed to reveal the lengths that she went to in order to be cast in Midnight Special, she did admit that she was such a huge fan of Jeff Nichols' previous films, and was so in love with his work that she'd have starred in pretty much any role in any of his films. She said:
In Midnight Special Kirsten Dunst stars as Sarah, the mother to eight-year-old Alton, a boy who possesses special powers. However, with the government and a religious cult wanting to use Alton's powers for their own ends, Michael Shannon's Roy, Alton's father, decides to kidnap him from the cult so that he can get him to a secret location at a certain time.
Like Jeff Nichols' previous films, Midnight Special is a genre-defying and wholly unique film that forgoes a sturdy plot and back story, instead allowing its mysterious narrative to unfold in a slow but enthralling manner. It won't be for everyone's tastes, but it's ambitious filmmaking from one of American cinema's finest subversive directors. You can check out Midnight Special in all of its glory starting this Friday.
Your Daily Blend of Entertainment News
Thank you for signing up to CinemaBlend. You will receive a verification email shortly.
There was a problem. Please refresh the page and try again.