Adam Driver Joins Jeff Nichols Sci-Fi Drama Midnight Special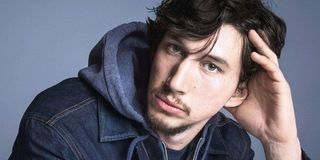 Girls star Adam Driver is on fire! He's got an exciting slate of features coming up. He's rumored to be the frontrunner for Warner Bros' Batman vs. Superman's Nightwing, and The Wrap reports he's now signed on to Jeff Nichols' follow-up to the critically praised Mud, called Midnight Special. On this Warner Bros. property, Driver joins a cast that includes Kirsten Dunst, Joel Edgerton, and Nichols' go-to leading man Michael Shannon.
Written and directed by Nichols, Midnight Special is described as a sci-fi drama that follows a father and his eight-year-old son forced to run when the former discovers the latter possesses special powers. What powers this son wields are being kept under wraps for now, along with what role Dunst, Driver, and Edgerton will play. We know Shannon will front the feature as the fleeing father, but no report has been made who will play his boy.
According to The Wrap's Warner Bros. source, Driver has been earning buzz on their lot while at work on the recently wrapped WB comedy This is Where I Leave You. Based on the hysterical novel by Jonathan Tropper, the Shawn Levy-helmed film focuses on a dysfunctional Jewish family forced to reconvene and put up with each other as they sit Shiva to fulfill their late father's last wish. Driver plays the rebellious brother of the Foxman clan, and as such will share the screen with Jason Bateman, Tina Fey, Corey Stoll, Timothy Olyphant, Connie Britton and Jane Fonda.
Also in the pipeline for Driver is the Noah Baumbach dramedy While We're Young, which is now in production. This marks Driver's second collaboration with the lauded writer director, following this year's spectacular Frances Ha, which is Now Streaming. While We're Young has Driver playing one-half of a hip young couple with Amanda Seyfried. Their relationship is not the film's focus, but rather the catalyst for a married couple--made up of Ben Stiller and Naomi Watts--to re-evaluate their lives.
Preceding either of these releases is the Coen Bros' Inside Llewyn Davis, which features Driver in a small but memorable role as a deep-voiced folk singer called Al Cody. This music-driven drama stars Oscar Isaac, Carey Mulligan and Justin Timberlake, and will open on December 20th of this year, just a few weeks shy of the season three premiere of Girls.
Before wrapping up their news item, The Wrap revisited those Nightwing casting rumors. After acknowledging that Driver has dismissed this report, the site, which broke the news, restated they have heard from multiple sources that Driver is being eyed for Nightwing. And if reports that Warner Bros are such big fans of the young actor are true, it's possible his name is being tossed around the lot, whether or not he's aware of it. But with Batman vs. Superman shooting early next year, we should hear some more news on this casting possibility soon.
Your Daily Blend of Entertainment News
Staff writer at CinemaBlend.