How Many F-Bombs Deadpool Has In It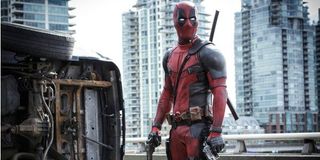 It's a good thing that Deadpool was given the R-rating that it craved so badly. Because this freedom gave the Ryan Reynolds led comic-book adaptation a chance to not only create some pretty graphic and gory fight sequences, but it also allowed the superhero adaptation to be littered with a mountain of profanity too. In fact it's now been revealed that there are 84 uses of the f-word in Deadpool.
The good folks over at Kids In Mind, who like to keep an eye on films' use of such vulgarity, sat down to watch Deadpool and count each and every use of the word "fuck." Obviously they didn't stop there though. Because they also made an extensive list of the other uses of profanity in the eagerly anticipated adaptation of the beloved comic-book character.
And while the film's use of the F-word and its derivatives was the runaway winner, there were quite a number of other references, terms, and gestures that some people probably aren't overly fond of.
Wondering what constitutes an anatomical term? Well, all of your queries can be answered by having a click over to Kids In Minds' profanity glossary, which breaks down what these terms mean.
But Deadpool's use of rather vulgar language isn't the only thing that Kids In Mind found note-worthy. They also thought you'd should know about Deadpool's frequent references to cocaine, as well as the fact that "several men and a few women in about five bar scenes drink mugs and bottles of beer along with shots of clear liquor and short glasses of whiskey or Scotch."
And that's before we get to the various scenes of violence and gore that involve the titular superhero pulverising anyone that stands in his way.
Basically, Deadpool isn't for the feint of hearted. But, you already knew that. That's why you either jumped at the opportunity to see Deadpool last night, or are currently making plans to do just that over the weekend. If you're not making these plans then you're quite simply wrong. Because Deadpool is downright stellar, and the jolt in the arm for the comic-book genre.
You can now head over to your local multiplex to see just how spectacular Deadpool is, while we can all rejoice in the news that Deadpool 2 is already in development. During which we can expect to hear even more vulgarity and profanity. And we wouldn't want it any other way.
Your Daily Blend of Entertainment News