How Margot Robbie Totally Screwed Up One Dude's Suicide Squad Tattoo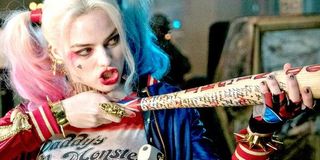 As production on Suicide Squad rolled to an end last year, social media lit up with images straight from the set of its cast and crew getting matching tattoos. One of the first of these images even shows star Margot Robbie with a tattoo gun in her hand permanently etching ink into the skin of an unseen individual. It turns out that the actress had a rather inauspicious start to her career as a tattooist, because she admitted that she misspelled the one word she was tattooing onto one of her victims.
Margot Robbie made this admission during her appearance on The Late Show With Stephen Colbert alongside Tina Fey to promote Whiskey Tango Foxtrot. When the conversation turned to her daredevilling ways, Robbie not only admitted that she recently acquired a tattoo gun, but that she's given 26 of them. The Australian actress then candidly discussed her biggest failure with the device though:
The unfortunate soul who permanently has the misspelling on his forearm was revealed by Margot Robbie to be Jai Courtney's assistant, Simon. However, while it undoubtedly looks a little silly, Simon also has a rather epic story to tell one and all when he's asked about the questionable spelling of his latest tattoo.
You can actually take a look at Margot Robbie giving a tattoo while in character as Harley Quinn, below. It was uploaded to Twitter by Suicide Squad's writer and director David Ayer. However, it's hard to tell if the arm Margot Robbie is tattooing is Simon's. But if it isn't you've got to respect the cojones of the individual who allowed the actress to give him a tattoo after she'd spectacularly failed her first attempt.
You can check out Margot Robbie and Tina Fey's full interview with Stephen Colbert below. Which you really need to see, just because it features a tremendous ad-lib from Fey after Robbie initially reveals her tattoo faux-pas.
The comedy war flick Whiskey Tango Foxtrot is due out on March 4, while Suicide Squad will finally be with us on August 6.
Your Daily Blend of Entertainment News
Thank you for signing up to CinemaBlend. You will receive a verification email shortly.
There was a problem. Please refresh the page and try again.